Your consultations and treatments in complete safety
TREATING YOU IN COMPLETE SAFETY IS OUR ABSOLUTE PRIORITY. We are doing everything possible in terms of hygiene and the organisation of our reception and care pathways to welcome you with  confidence in optimal conditions for your own safety and the safety of our teams.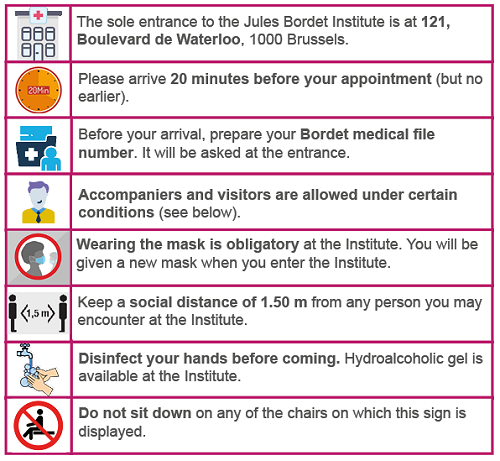 Conditions of visits to hospitalised patients (from 12/06/2021)


Visits to hospitalised patients are now allowed (from 12/06/2021). To continue protecting patients and staff we ask you to respect certain rules:

Visits are possible from the 3rd day of hospitalisation at the Institute.
Only one visitor (and always the same one) is allowed. It will be possible to identify this sole visitor during the formalities for granting admission to the Institute.
The sole visitor will be notified by text message as soon as it is possible to come to the Institute.
Visiting times: between 5 pm and 8 pm during the week, between 3 pm and 8 pm at weekends and on public holidays.
Length of visit: 30 minuts maximum in double room, 1h maximum in single room.
Please remain in the patient's room throughout the visit.
Visits to patients hospitalised in the B3 unit is subject to conditions and no visits are allowed to the B7, ASTI and RESI units (except in special cases).
Please respect the protectionmeasures:

Wear your mask.
Respect the distancing of 1m50.
Wash and disinfect your hands before and after your visit.
Wear the gown you will be issued with.
Our teams thank you for your understanding and for respecting these rules. The unit doctors and staff will be pleased to answer any questions.
Info : 02 541 31 11
Accompaniers are allowed subject to certain conditions.

You can be accompanied by one person only (an adult) if you attend for an oncology consultation and your accompanier enters the consulting room with you. 

If you are attending for a medical-technical act, tests or for the day hospital, no accompanier will be allowed (except in exceptional cases) so as to avoid having too any people in the waiting rooms at any one time.