COVID-19 : Visits not permitted from Saturday 17/10/2020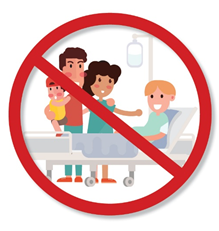 16/10/2020
Coronavirus COVID-19 :


Visitors are no longer permitted at the Jules Bordet Institute from Saturday 17/10/2020
To protect patients and members of staff following the increase in the number of persons testing positive for Covid-19, visits to patients hospitalised at the Jules Bordet Institute are no longer permitted from Saturday 17 October 2020, except in special cases (in which case you should contact the care personnel).   
You want to leave things for a loved one? 
If you want to leave (non-perishable) articles for a loved one who is hospitalised, please leave your parcel at the main reception of the Jules Bordet Institute (121, Boulevard de Waterloo) indicating clearly the family name, first name, room number and bed of your loved one. 

You want to send a personal message to a loved one who is hospitalised? 
Send emails, drawings, photos, videos to this address and we will ensure they are passed on to your loved one: message.patient.hospitalise@bordet.be
Please give the exact and full name of the person to whom the message must be sent. 

You want to have news of your loved one? 
If your loved one does not have a mobile phone or a telephone in his or her room, please dial the central number:  02 541 31 11.

You need psychological support?
We understand that this suspension of visits can be difficult psychologically, both for the hospitalised patient and close family or friends. Psychological support can be requested by telephone on 0487/11 94 28.
Do you have any questions about the organisation of activities at the Jules Bordet Institute during Covid-19? More info on our dedicated page.