Clinic of infectious diseases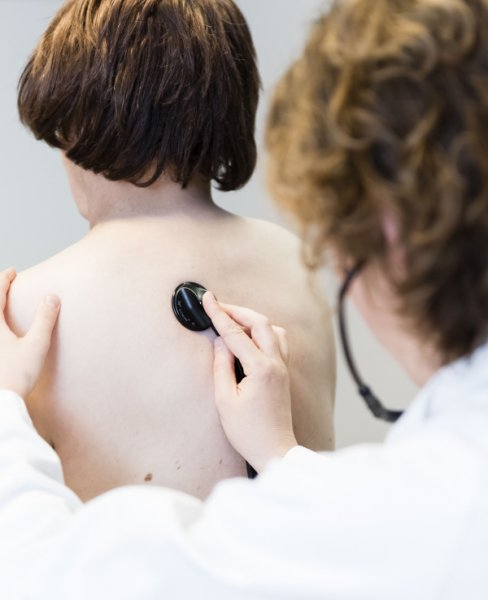 The objective of the infectious diseases clinic at the Institut Jules Bordet is to prevent and treat the infectious complications occurring in cancer patients, whether they are connected with the cancer itself or with its treatment (chemotherapy, radiotherapy, surgery, etc.)
Prevention and antibiotic treatments of infections in close collaboration with all the other doctors of the Institute
Management of febrile neutropenia which can occur after chemotherapy
Prevention and treatment of infectious complications after haematopoietic stem cell transplantation
The Infectious Diseases Department takes part in interuniversity courses on infectious diseases. This semiology course is given to medical students and also forms part of a series of training sessions intended for doctors in training at the Institut Jules Bordet.
Our team
Head of Clinic
Dr Aspasia Georgala
(Secretary : Nathalie Cardinal)
Head of Clinic adjunct
Dr Angela Loizidou
Dr Michaela Raimo

Team
Dr Michaela Raimo
Vanessa Coubeaux (research nurse)
10/11/2023
Scientific publications
Antimicrobial susceptibility testing determined by Alfred 60/AST (Alifax®) in a multi-sites lab: performance's evaluation and optimization of workflow.
Authors : Cupaiolo R, Cherkaoui S, Serrano G, Dauby N, Georgala A, Blumental S, Maillart E, Hites M, Hallin M, Martiny D
Year : 2022
Journal : J Microbiol Methods
Volume : 194
Pages : 106433

A Rare Case of Hepatic Vanishing Bile Duct Syndrome Occurring after Combination Therapy with Nivolumab and Cabozantinib in a Patient with Renal Carcinoma.
Authors : Gourari K, Catherine J, Garaud S, Kerger J, Lepida A, Georgala A, Lebrun F, Gomez Galdon M, Gil T, Willard-Gallo K, Langouo Fontsa M
Year : 2022
Journal : Diagnostics (Basel)
Volume : 12

COVID-19 Sequelae and the Host Pro-Inflammatory Response: An Analysis From the OnCovid Registry.
Authors : Cortellini A, Gennari A, Pommeret F, Patel G, Newsom-Davis T, Bertuzzi A, Viladot M, Aguilar-Company J, Mirallas O, Felip E, Lee AJX, Pria AD, Sharkey R, Brunet J, Garcia MC, Chester J, Mukherjee U, Scotti L, Dolly S, Sita-Lumsden A, Ferrante D, Van Hemelrijck M, Moss C, Russell B, Seguí E, Biello F, Krengli M, Marco-Hernández J, Gaidano G, Patriarca A, Bruna R, Roldán E, Fox L, Pous A, Griscelli F, Salazar R, Martinez-Vila C, Sureda A, Loizidou A, Maluquer C, Stoclin A, Iglesias M, Pedrazzoli P, Rizzo G, Santoro A, Rimassa L, Rossi S, Harbeck N, de Torre AS, Vincenzi B, Libertini M, Provenzano S, Generali D, Grisanti S, Berardi R, Tucci M, Mazzoni F, Lambertini M, Tagliamento M, Parisi A, Zoratto F, Queirolo P, Giusti R, Guida A, Zambelli A, Tondini C, Maconi A, Betti M, Colomba E, Diamantis N, Sinclair A, Bower M, Ruiz-Camps I, Pinato DJ
Year : 2022
Journal : J Natl Cancer Inst

PARIS score for evaluation of probability of SARS-CoV-2 infection in cancer patients.
Authors : Gueuning C, Ameye L, Loizidou A, Grigoriu B, Meert AP
Year : 2022
Journal : Support Care Cancer
Volume : 30
Pages : 7635-7643

Immune response to anti-SARS-CoV-2 prime-vaccination in patients with cancer: a systematic review and meta-analysis.
Authors : Martins-Branco D, Nader-Marta G, Tecic Vuger A, Debien V, Ameye L, Brandão M, Punie K, Loizidou A, Willard-Gallo K, Spilleboudt C, Awada A, Piccart M, de Azambuja E
Year : 2022
Journal : J Cancer Res Clin Oncol
Pages : 1-6