Clinic of infectious diseases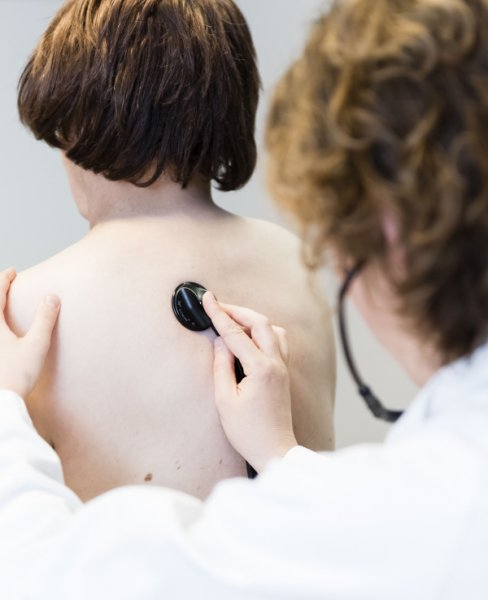 The objective of the infectious diseases clinic at the Institut Jules Bordet is to prevent and treat the infectious complications occurring in cancer patients, whether they are connected with the cancer itself or with its treatment (chemotherapy, radiotherapy, surgery, etc.)
Prevention and antibiotic treatments of infections in close collaboration with all the other doctors of the Institute
Management of febrile neutropenia which can occur after chemotherapy
Prevention and treatment of infectious complications after haematopoietic stem cell transplantation
The Infectious Diseases Department takes part in interuniversity courses on infectious diseases. This semiology course is given to medical students and also forms part of a series of training sessions intended for doctors in training at the Institut Jules Bordet.
Research projects
Project 1
Role of monitoring smears in detecting patients colonised with resistant bacteria in neutropenic patients and their impact on empirical treatments in the case of febrile neutropenia.
Project 2
Epidemiology of invasive fungal infections
Projet 3 
Fever of undetermined origin: role of PETscan
Scientific publications
Staggered enforcement of infection control and prevention measures following four consecutive potential laboratory exposures to imported <i>Brucella melitensis</i>.
Authors : Miendje Deyi VY, Mori M, Dauby N, Clevenbergh P, Mahadeb B, Loizidou A, Maillart E, Martiny D, Debyttere AL, Gerard M, Hallin M
Year : 2021
Journal : Infect Prev Pract
Volume : 3
Pages : 100128

Factors associated with SARS-CoV-2 infection and outcome in patients with solid tumors or hematological malignancies: a single-center study.
Authors : Goudsmit A, Cubilier E, Meert AP, Aftimos P, Stathopoulos K, Spilleboudt C, Loizidou A
Year : 2021
Journal : Support Care Cancer

Systemic pro-inflammatory response identifies patients with cancer with adverse outcomes from SARS-CoV-2 infection: the OnCovid Inflammatory Score.
Authors : Dettorre GM, Dolly S, Loizidou A, Chester J, Jackson A, Mukherjee U, Zambelli A, Aguilar-Company J, Bower M, Sng CCT, Salazar R, Bertuzzi A, Brunet J, Mesia R, Sita-Lumsden A, Seguí E, Biello F, Generali D, Grisanti S, Seeva P, Rizzo G, Libertini M, Maconi A, Moss C, Russell B, Harbeck N, Vincenzi B, Bertulli R, Ottaviani D, Liñan R, Marrari A, Carmona-García MC, Chopra N, Tondini CA, Mirallas O, Tovazzi V, Fotia V, Cruz CA, Saoudi-Gonzalez N, Felip E, Roqué A, Lee AJX, Newsom-Davis T, García-Illescas D, Reyes R, Wong YNS, Ferrante D, Scotti L, Marco-Hernández J, Ruiz-Camps I, Patriarca A, Rimassa L, Chiudinelli L, Franchi M, Santoro A, Prat A, Gennari A, Van Hemelrijck M, Tabernero J, Diamantis N, Pinato DJ
Year : 2021
Journal : J Immunother Cancer
Volume : 9

Performance of Xpert MTB/RIF Ultra for diagnosis of pulmonary and extra-pulmonary tuberculosis, one year of use in a multi-centric hospital laboratory in Brussels, Belgium.
Authors : Mekkaoui L, Hallin M, Mouchet F, Payen MC, Maillart E, Clevenbergh P, Georgala A, Van den Wijngaert S
Year : 2021
Journal : PLoS One
Volume : 16
Pages : e0249734

Determinants of enhanced vulnerability to coronavirus disease 2019 in UK patients with cancer: a European study.
Authors : Pinato DJ, Scotti L, Gennari A, Colomba-Blameble E, Dolly S, Loizidou A, Chester J, Mukherjee U, Zambelli A, Aguilar-Company J, Bower M, Galazi M, Salazar R, Bertuzzi A, Brunet J, Mesia R, Sita-Lumsden A, Colomba J, Pommeret F, Seguí E, Biello F, Generali D, Grisanti S, Rizzo G, Libertini M, Moss C, Evans JS, Russell B, Wuerstlein R, Vincenzi B, Bertulli R, Ottaviani D, Liñan R, Marrari A, Carmona-García MC, Sng CCT, Tondini C, Mirallas O, Tovazzi V, Fotia V, Cruz CA, Saoudi-Gonzalez N, Felip E, R Lloveras A, Lee AJX, Newsom-Davis T, Sharkey R, Chung C, García-Illescas D, Reyes R, Sophia Wong YN, Ferrante D, Marco-Hernández J, Ruiz-Camps I, Gaidano G, Patriarca A, Sureda A, Martinez-Vila C, Sanchez de Torre A, Rimassa L, Chiudinelli L, Franchi M, Krengli M, Santoro A, Prat A, Tabernero J, V Hemelrijck M, Diamantis N, Cortellini A
Year : 2021
Journal : Eur J Cancer
Volume : 150
Pages : 190-202