Clinic of infectious diseases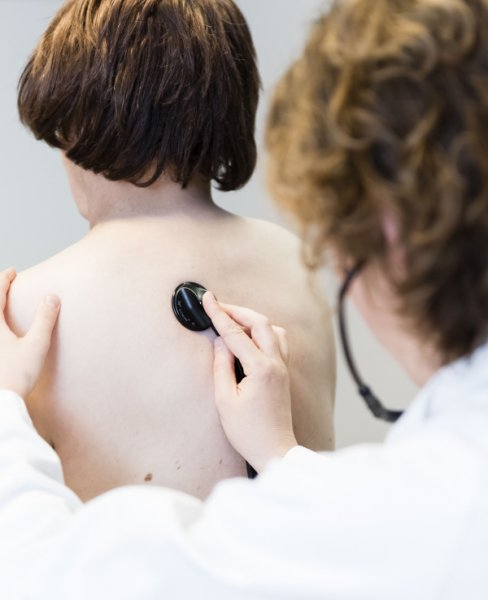 The objective of the infectious diseases clinic at the Institut Jules Bordet is to prevent and treat the infectious complications occurring in cancer patients, whether they are connected with the cancer itself or with its treatment (chemotherapy, radiotherapy, surgery, etc.)
Prevention and antibiotic treatments of infections in close collaboration with all the other doctors of the Institute
Management of febrile neutropenia which can occur after chemotherapy
Prevention and treatment of infectious complications after haematopoietic stem cell transplantation
The Infectious Diseases Department takes part in interuniversity courses on infectious diseases. This semiology course is given to medical students and also forms part of a series of training sessions intended for doctors in training at the Institut Jules Bordet.
Research projects
Project 1
Role of monitoring smears in detecting patients colonised with resistant bacteria in neutropenic patients and their impact on empirical treatments in the case of febrile neutropenia.
Project 2
Epidemiology of invasive fungal infections
Projet 3 
Fever of undetermined origin: role of PETscan
Scientific publications
Pneumocystis Infection in Two Patients Treated with Both Immune Checkpoint Inhibitor and Corticoids
Authors : Sadek M, Loizidou A, Drowart A, Van den Wijngaert S, Gomez Galdon M, Aspeslagh S
Year : 2020
Journal : JIPO
Volume : 3(1)
Pages : 27-30

Palbociclib safety and efficacy beyond Ribociclib-induced liver toxicity in metastatic hormone-receptors positive breast cancer patient.
Authors : Farhat F, Tarabaih M, Kanj A, Aoun M, Kattan J, Assi T, Awada A
Year : 2020
Journal : Anticancer Drugs
Volume : 31
Pages : 85-89

Immunogenicity and safety of the adjuvanted recombinant zoster vaccine in adults with haematological malignancies: a phase 3, randomised, clinical trial and post-hoc efficacy analysis.
Authors : Dagnew AF, Ilhan O, Lee WS, Woszczyk D, Kwak JY, Bowcock S, Sohn SK, Rodriguez Macías G, Chiou TJ, Quiel D, Aoun M, Navarro Matilla MB, de la Serna J, Milliken S, Murphy J, McNeil SA, Salaun B, Di Paolo E, Campora L, López-Fauqued M, El Idrissi M, Schuind A, Heineman TC, Van den Steen P, Oostvogels L
Year : 2019
Journal : Lancet Infect Dis
Volume : 19
Pages : 988-1000

Treatment outcomes in patients with proven/probable vs possible invasive mould disease in a phase III trial comparing isavuconazole vs voriconazole.
Authors : Maertens J, Selleslag D, Heinz WJ, Saulay M, Rahav G, Giladi M, Aoun M, Kovanda L, Kaufhold A, Engelhardt M, Cornely OA, Herbrecht R, Ullmann AJ
Year : 2018
Journal : Mycoses
Volume : 61
Pages : 868-876

Small cell carcinoma of the endometrium: A clinicopathological study and management of three cases.
Authors : Sidibe FM, Traore Z, Georgala A, Kanab R, Larsimont D, Awada A, Piccart-Gebhart M
Year : 2018
Journal : Bull Cancer
Volume : 105
Pages : 842-846