Informations for visitors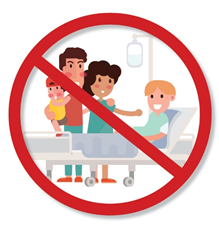 Afin de protéger les patients et les membres du personnel suite à l'accroissement du nombre de cas de Covid-19 positifs, les visites auprès des patients hospitalisés à l'Institut Jules Bordet ne sont plus autorisées à partir du samedi 17 octobre 2020, sauf cas exceptionnel (adressez-vous dans ce cas au personnel soignant).
Adres : 121 bd de Waterloo, 1000 Brussels
Hospitalisation : Please follow this pictogram :  
Paragraph body
Services available to you
RESTAURANT AND SHOP
During the covid19 pandemic, the Cosy space remains open.
The restaurant is located on the 1st floor at 121, boulevard de Waterloo. It is open from 8.00 a.m. to 6.00 p.m. on weekdays (closed at the weekend).
The shop is located on the ground floor of the Hospitalisation wing and warmly welcomes you in a comfortable setting. Do not hesitate to go there with your family and friends. There you will find light snacks, books and magazines, toiletries, gifts, flowers, etc. The shop is open from 7.30 a.m. to 4.00 p.m. on weekdays and from 11.00 a.m. to 5.00 p.m. at the weekend.   
Contact:

Phone : +32(0)2 541 36 86