Bordet News 124 (november 2018)
Summary
3 - Edito
4 - Prise en charge thérapeutique du cancer du sein : de la mutilation à la guérison. (Pr Jean-Marie Nogaret)
6 - La recherche au service d'une meilleure compréhension de la maladie. (Pr Christos Sotiriou et Françoise Rothé DsC)
9 - Radiothérapie peropératoire : plus de 1.000 patients traités ! (Dr Catherine Philippson)
12 - Utiliser la radiothérapie comme un 'vaccin' : une nouvelle voie de recherche passionnante. (Pr Martine Piccart)
14 - Aider les familles à mieux communiquer pour mieux s'adapter aux traitements. (Pr Darius Razavi et Julien Tiete)
16 - « Un grand cri d'amour »
17 - Typh Barrow et Olivia Hainaut se mobilisent contre le cancer du sein.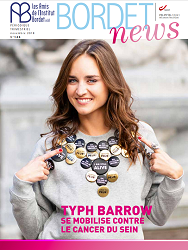 The "Bordet News" is the quarterly journal of the "Les Amis de l'Institut Bordet". It is intended for the general public and provides an update on the current situation of the Institut Jules Bordet and the association "Les Amis de l'Institut Bordet". The majority of the authors are physicians and researchers of the Institute.