Long live summer! Welcome the summer with serenity despite your illness
News (05/06/2023)
LONG LIVE SUMMER!
Welcome the summer with serenity despite your illness
When you have a cancer the arrival of summer can be a source of additional stress. Managing your illness and side effects can be more complicated in the summer months and a source of anxiety: How to manage a stoma when you want to swim? What hair solutions when the weather gets really hot? Are there swimsuits for women who have had a mastectomy?  
Fortunately there are a number of solutions to help you welcome the arrival of summer with greater serenity. Come and discover them at the Jules Bordet Institute on 14 and 15 June. A dozen stands will present a thousand and one tips on how to enjoy your summer despite illness: adapted swimsuits and lingerie, waterproof make-up, sun protection and much more!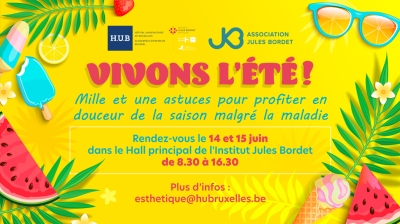 The support of our specialised nurses 
At the Jules Bordet Institute nurses specialised in aesthetic care and well-being support patients who have or have had cancer in maintaining and improving their body image and well-being. They provide patients with information and advice relating to side effects of treatment as well as well-being and relaxation care:  advice, practicalities and administrative procedures relating to hair and breast prostheses, information on alopecia, relaxing massages for various parts of the body and make-up advice and sessions. This information, advice and care are offered to Institute patients depending on their needs and at the request of the multidisciplinary team. It is given in cooperation with other Institute staff (coordinating nurses, doctors, social workers, psychologists, etc.) and is available either as an outpatient or during hospitalisation. 
For more information: https://www.bordet.be/en/aesthetic-care-and-wellness