The MyPeBS clinical study: for a new breast cancer screening strategy?
Press Release (30/08/2021) 
The MyPeBS clinical study: for a new breast cancer screening strategy? 
30 August 2021 - The aim of MyPeBS  (My Personal Breast Cancer Screening) is to evaluate a breast cancer screening strategy based on individual risk.    A total of 27 international partners are participating in MyPeBS. The clinical study is taking place in six countries (Belgium, France, Italy, the United Kingdom, Spain, Israel) and is coordinated by Unicancer (France). In Belgium it is being conducted at 10 hospitals and coordinated by the Jules Bordet Institute.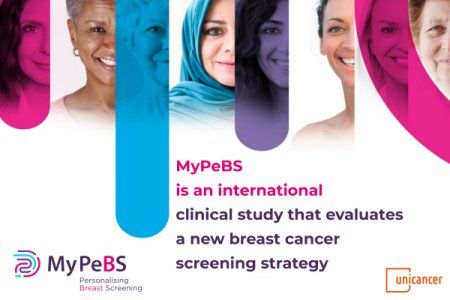 The limits of current screening
The present screening programme for breast cancer ("Mammotest") proposes the same screening for all women aged between 50 and 69 on the basis of a single risk factor: age.  Yet the risk of cancer varies from one woman to another depending on a number of factors: family history, personal antecedents, lifestyle, genetic constitution.   Although the current screening is effective (fewer aggressive therapies, reduced mortality), it  does have disadvantages: overdiagnosis (finding and treating tumours that would not have posed a problem), interval cancers (cancers undiagnosed between 2 routine screenings), false positives (women called back for further tests that do not reveal a cancer). 
MyPeBS, towards a personalised breast cancer screening
Today we are able to evaluate individual risk, in a standardised manner that is both reliable and reproducible.   MyPeBS (My Personal Breast Cancer Screening) is the first European clinical study that aims to evaluate the benefits of personalised screening with a frequency and procedures adapted to the individual risk of each woman. This new screening strategy that takes into account individual risk aims to increase the effectiveness of organised cancer screening while reducing the disadvantages. The study results will make it possible to propose European recommendations to improve organised screening. For the study as a whole in the six "recruiter" countries,   85 000 women volunteers aged between 40 and 70 who have never had breast cancer are invited to participate. In Belgium, 10 screening centres, mostly in hospitals, are participating in the project.   
In practice, how to participate ?
Administrative conditions for participating:

to be a woman aged between 40 and 70 (inclusive)

to have  health cover and a social security number (N° NISS)

to have a mobile phone and e-mail address


 

Please note: this study is not for you if:

you have a genetic mutation that places you at high risk of breast cancer (BRCA,…).

you have already had breast cancer

you have received irradiation of the chest wall (for a lymphoma)

you have had an abnormal breast biopsy

your last mammogram showed an abnormality that is being further investigated.
You meet the criteria and would like to know more about MyPeBS?
Contact the CancerInfo (Cancer Foundation) call centre:
0800 15 801 for French speakers (free number)

0800 15 802 for Dutch speakers (free number)
Would you like to participate in MyPeBS?
Contact the participating centre nearest you:
For more information on the MyPeBS study
Visit www.mypebs.eu

Watch the short video below:
This project is financed by the European Union's Horizon 2020 programme for research and innovation under grant agreement n° 755394. In Belgium it is also being supported by the Foundation against Cancer
Press Contacts (Institut Jules Bordet)