Patients' Associations Open Day!
Press release (15/10/2019) 
On 24 October 2019, the Jules Bordet Institute is holding its Patients' Associations Open Day! 
Brussels, October 15, 2019 – On 24 October 2019 the Jules Bordet Institute, reference centre in the fight against cancer in Belgium, is holding an open day for patients' associations. On this occasion, patients, their families and loved ones, visitors and health professionals will be able to come together to discuss and discover the many missions and activities of patients' associations.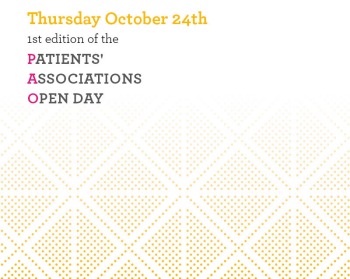 Patient's associations: Sharing as the basis
Learning of an illness can give rise to a series of physical and psychological challenges. At a time when one can sometimes feel very alone, it is good to be able to talk to people who have faced a similar situation. It was out of this need to share experiences and useful activities that the patients' associations emerged. Practical advice on living with the illness on a day-to-day basis, information on treatment and progress in research, the organisation of activities (seminars, conferences, etc.), support, mutual help and providing someone ready to listen: patients' associations pursue many missions for patients and their loved ones, during and also after the illness. 
Patients' Associations Open day
Many associations dedicated to various cancer pathologies exist in Belgium today. On 24 October, seven patients' associations will be present at the Jules Bordet Institute. Whether you are a patient yourself, related to or in any way close to a patient, a visitor or a health professional, we invite you to visit the various stands and to feel free to put any questions you may have.  
The patients' associations will be pleased to welcome you at their stands, to discuss a particular subject or simply to provide further information:  
Where?

At the Jules Bordet Institute, entrance by way of 121, Boulevard de Waterloo, 1000 Brussels.

When?

Thursday October 24th from 9:30 AM to 3:30 PM.
Associations present: 
AFMVB: Laryngectomees

ALTE – SMP: Myeloproliferative syndromes

Lymfklierkanker Vereniging Vlaanderen :

Lymphomas

MyMu: Multiple myelomas

Vaincre: Bronchial cancers

Vivre comme avant: breast cancer

Net men Kanker: Neuroendocrine tumours (NET) & multiple endocrine neoplasia (MEN).
Press contacts (Institut Jules Bordet)