Sunday 17 October is the day you can come and discover the brand new Jules Bordet Institute
11/10/2021
Sunday 17 October is the day you can come and discover the brand new Jules Bordet Institute, the reference centre in the fight against cancer in Belgium.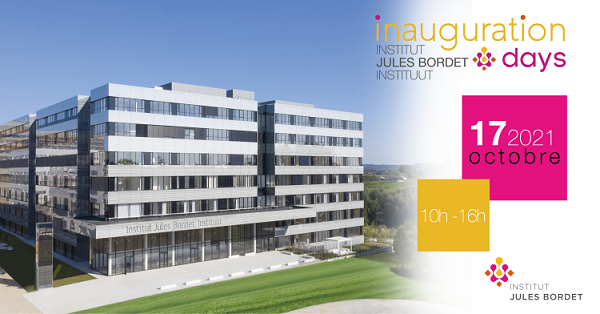 Covid Safe Event: Advance booking and Covid Safe ticket required
What

: 

The Jules Bordet Institute, the internationally renowned multidisciplinary university hospital for the fight against cancer, invites you to discover its new Institute located on the ULB university campus in Anderlecht. A unique opportunity to discover the reference centre of this new Belgian cancer treatment and research pole, its hospital infrastructures and its highly innovative medical technologies. All essential elements for leading edge multidisciplinary cancer care and high quality research and teaching.

A self-guided, signposted visit of a part of the new Institute.


 

When: Sunday 17/10 from 10 am to 4 pm
 

Where

: Rue Meylemeersch 90, 1070 Anderlecht

.


 
Covid Safe event: Proof of advance booking and the Covid Safe ticket for everybody over the age of 12 will be requested at the entrance.  
 

Access

:

As works are in progress around the building, we strongly advise you to travel to the new Jules Bordet Institute by public transport
If you do decide to come by car, the CAH Car Park (V. Joseph Wybran 40, 1070 Anderlecht) and the Lennik Car Park (Route de Lennik 806, 1070 Anderlecht) are available. These are signposted. Please note that the number of parking places is limited and they operate on a first come, first served basis.   
We look forward to seeing you all on the day!