2020 Scientific Report - Jules Bordet Institute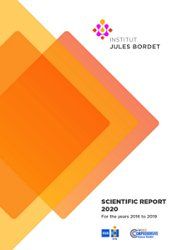 Thursday 10/09/2020
Jules Bordet Institute – 2020 Scientific Report
Leading-edge research and ambitious projects in the service of the fight against cancer 
Translational research and clinical research are part of the Jules Bordet Institute's ADN as it seeks to rapidly bring research discoveries to the patient's bedside. This 2016-2019 scientific report reflects the spirit of commitment and collaboration of the Institute's health professionals, researchers and administrative support teams but also and above all that of patients who place their trust in our teams and who volunteer to take part in clinical studies in the framework of a genuine partnership. 
For several decades now, the Jules Bordet Institute has played a particularly important role in promoting university research by creating prestigious international research networks, such as the European Organisation for Research and Treatment of Cancer (EORTC), the Breast International Group and, more recently, the Oncodistinct network.
Research at the Institute is set to become even stronger in the coming years with the construction, currently in progress, of the new Jules Bordet Institute on the campus of the Université Libre de Bruxelles, already home to other research laboratories and the Erasmus general academic hospital. The new Jules Bordet Institute will be 80 000 m² dedicated entirely to cancer with leading-edge equipment and technologies, including 10 000 m² reserved for research activities. The construction is now entering the final stages and the move is scheduled for the end of 2021. 
The new Jules Bordet Institute will offer a range of possibilities for our research teams and university or private partners, present and future, both in Belgium and abroad – all with the common aim of discovering new strategies for fighting cancer and its consequences for patients and their loved ones.