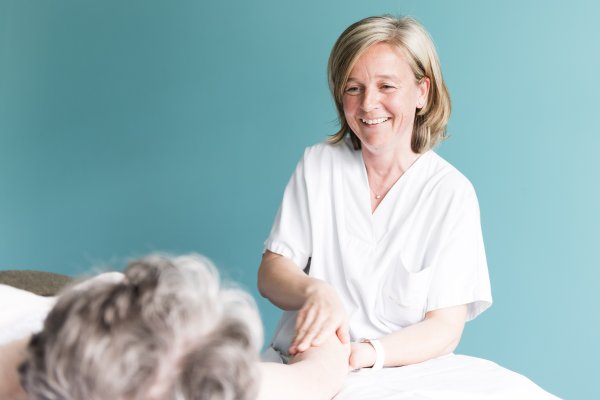 The occupational therapists at the Jules Bordet Institute accompany patients with reduced  independence. They assist them in readapting to their daily and social life through practical everyday activities while taking into account individual potential and the constraints of the environment. Occupational therapists work in multidisciplinary teams and on the basis of a medical prescription. 
The patient may require the support of an occupational therapist in the case of reduced independence or autonomy when carrying out daily activities; motor, cognitive or psychological deficiencies; functional incapacities (for example, brushing their teeth, putting on shoes and tying the laces, getting in or out of a car); unsuitability of the environment (for example, identifying the presence of a floor mat that could pose a risk, installation of bathroom bars to facilitate mobility); sensitivity disturbances or pain.  For personalised care, the occupational therapist will first assess the patient's aptitudes, environment and routines and then set goals adapted to the patient's needs. Depending on the patient's personal circumstances, the occupational therapist may propose: 
Activities for physical, cognitive or perceptual re-education 

An assessment and retraining in daily living activities 

Proposal of technical aids or adaptations (such as raising toilets, stocking pullers, adaptation of kitchen worktop, etc.) 

Information and demonstrations adapted to the patient's aptitudes and environment (transfer positioning, managing fatigue or the environment) 

Learning and practice of relaxation methods for the patient's comfort and well-being. 
The Jules Bordet Institute occupational therapists welcome students from various occupational therapist schools as well as students of other professions with a view to highlighting the potential for cooperation within an oncological department. They   also accompany students working on their final year dissertation.