Clinic of supportive and palliative cares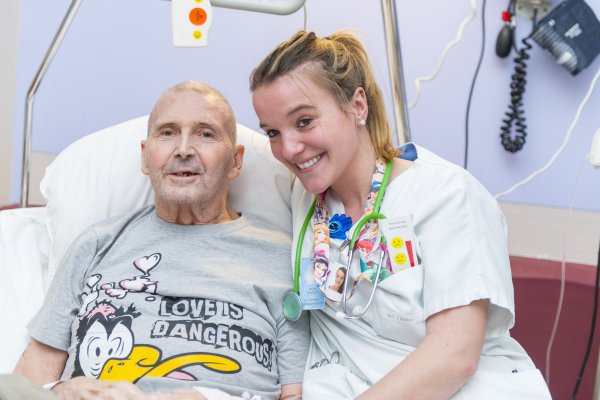 Once limited to end-of-life, supportive care is now at the heart of cancer treatment at the Institut Bordet. And this includes from the start of treatment.
The Supportive and Palliative Care Clinic provides continuing comfort care aimed at controlling and alleviating the symptoms and consequences of cancer and of certain treatments: pain, digestive, psychological and sexual disorders, skin problems, socio-economic difficulties, etc.
Supportive care has 3 objectives:
to improve the patient's quality of life throughout their care;

to encourage the continuance of and adherence to treatment;

to encourage return home (where possible).
The Supportive Care Clinic works in close collaboration with many medical and paramedical specialists including cancer psychologists, geriatric oncologists, gastroenterologists, etc. It comprises a mobile team and a hospital-based unit.
The mobile team, on request, visits other departments, attending patients and providing advice and information to Institut Bordet nursing staff. It also participates in certain multidisciplinary cancer care meetings (CMOs).
Transfer to the Acute Supportive Care Unit (UASS) is arranged when it becomes difficult to control a patient's symptoms and/or when the support care is too complex to be administered in a "traditional" hospital unit or at home.
When curative cancer treatment is stopped, supportive care becomes palliative. As far as possible, and if the patient wishes, the Supportive Care Clinic arranges for the patient to return home, in collaboration with his GP, his relatives and a home care team.
The Institut Bordet respects the patient's choice to die in dignity. In Belgium, the practice of euthanasia is covered by the Act of 28 May 2002. Dr Dominique Lossignol, head of the Supportive Care Department, initiated the EOL (End of Life) Forum which trains and provides nursing teams with information on issues relating to end of life and euthanasia from a legal, medical and ethical viewpoint. It provides the Institut Bordet with consultation on medical and ethical matters.
Doctors in the Supportive Care Clinic provide teaching to medical students, doctors, nurses and psychologists in the treatment of pain and palliative care.
Dr Lossignol teaches ethics and professional ethics at Mons Faculty of Medicine, the École Prigogine and the CPSI. He gives numerous lectures to the general public.
Research projects

  Dr Lossignol is director and co-director of a number of theses and dissertations.
Project 1
Narrative ethics and end of life in the context of the request for euth
Scientific publications
Cannabinoids: a new approach for pain control?
Authors : Lossignol D
Year : 2019
Journal : Curr Opin Oncol
Volume : 31
Pages : 275-279

<sup>68</sup>Ga-PSMA-11 PET/CT in a patient with non-PSA-secreting undifferentiated prostate cancer before and after treatment with cabozantinib.
Authors : Artigas C, Plouznikoff N, Gil T, Duran Derijckere I, Herchuelz M, Libert I, Flamen P
Year : 2019
Journal : Eur J Nucl Med Mol Imaging
Volume : 46
Pages : 1978-1979

Pain control in thoracic oncology.
Authors : Peeters-Asdourian C, Massard G, Rana PH, Van Houtte P, White AP, Grigoriu B, Lossignol D, Almalki M, Alexiou J, Engelholm JL, Sculier JP
Year : 2017
Journal : Eur Respir J
Volume : 50

Neuropathic pain treatment.
Authors : Lossignol D
Year : 2017
Journal : Rev Med Brux
Volume : 38
Pages : 241-246

Euthanasie et don d'organes.
Authors : Lossignol D
Year : 2017
Journal : Rev Med Brux
Volume : 38
Pages : 468-469