Prix Fondation ARC Léopold Griffuel
Press release (06/04/2018)
Professor Martine Piccart receives the prestigious ARC Foundation Léopold Griffuel Award for translational and clinical research
6 April 2018 – On 5 April the ARC Foundation for Cancer Research awarded the 46th prestigious Léopold Griffuel Award for translational and clinical research to Professor Martine Piccart, Director of Research at the Jules Bordet Institute. Wonderful recognition for the research work she has pursued for more than 20 years in the field of breast cancer research.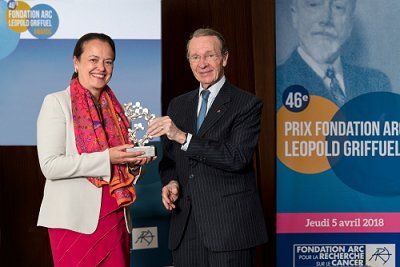 The ARC Foundation Léopold Griffuel Award
The ARC Foundation Léopold Griffuel Award was created in 1970 by the ARC Foundation for cancer research. This prestigious prize rewards one or more major discoveries in cancerology. It is one of Europe's most important prizes in the field of cancer research and is awarded annually to a researcher of international renown whose work has resulted in a major advance in cancer research.
Professor Martine Piccart, a career in the service of the fight against breast cancer
Professor Piccart is professor of oncology at the Université Libre de Bruxelles and Director of Research at the Jules Bordet Institute, the reference oncological centre in Belgium and abroad. She is also co-founder (with Professor Aron Goldhirsch) and President of the Breast International Group (BIG), the biggest network in the world today dedicated to research seeking to accelerate and perfect the use of anticancer treatment and diagnostic tools for women and men suffering from breast cancer.
By combining the efforts of numerous academic research groups from around the world, BIG's cooperative research model provides academic leadership in randomised clinical trials sponsored by industry. Some of these trials have made it possible to rapidly register new anticancer medicines with a significant impact on breast cancer mortality.
Professor Piccart initiated numerous clinical trials carried out through the BIG that permitted major advances in the treatment of breast cancer. She has also played an important facilitating role in cooperation between international researchers belonging to various cooperative groups worldwide. The collaboration models applied in these trials guarantee a rapid participation of a large number of patients, control of samples stored in biobanks by universities and respect for current quality demands.
"This award is a wonderful recognition for the research work carried out by Professor Piccart in the course of her career. For us it is the occasion to extend our warmest thanks and congratulate her for having served science, patients and the Jules Bordet Institute," declared Doctor de Valeriola, General Medical Director at the Jules Bordet Institute.
Attached:
Photo of Professor Martine Piccart (Fondation ARC)
Press Contacts : 
Ariane van de Werve (Institut Jules Bordet)