Launch of Radiotheranostics Platform in Brussels
Press release (23/07/2018)
Launch of Radiotheranostics Platform in Brussels




A pioneering project in Belgium
23 July 2018 – The Institut Jules Bordet has signed an important agreement marking the start of close cooperation with the Vrije Universiteit Brussel (VUB) for the development of a radiotheranostics platform, the "Brussels RadioTheranostics Platform"! A pioneering project in Belgium (end even in Europe), the creation of this radiotheranostics tool places the Institut Jules Bordet and its partners at the forefront of innovative developments in molecular imaging and treatment using targeted radionuclides.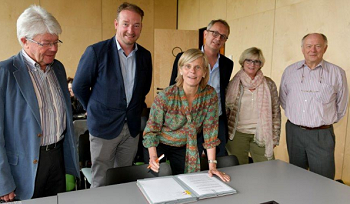 The project would not have been possible without a substantial donation from the Association Vinçotte Nucléaire (financing of a radiopharmacy laboratory with GMP compliance, a PET-CT search camera and a preclinical micro-irradiator), with significant further aid from the Friends of the Institut Jules Bordet (preclinical molecular imaging). 
Radiotheranostics uses radiolabelled drugs that simultaneously target, permit detection by medical imaging (PET-CT or SPECT-CT) and irradiate cancer cells to eliminate them. Today, further progress is  only possible with advanced research infrastructures and devices and by attracting a critical mass of high level scientists. It is to this end that the Brussels RadioTheranostics Platform (BRTP) has been set up together with a coordinated network of scientists and clinicians from the Institut Jules Bordet, the UZ Brussel and the ULB Érasme, and a joint strategic plan to build and manage infrastructures. 
In modern oncology the personalisation of medicine is fundamental. Nuclear medicine offers an unprecedented opportunity to offer patents a targeted and personalised radiotherapy based on the concept of radiotheranostics
In Belgium it is the Nuclear Medicine Department at the Institut Jules Bordet that was the motor behind the development and clinical introduction of radiotheranostics and in particular Peptide Receptor Radionuclide Therapy (PRRT) for neuroendocrine tumours, molecular radiotherapy in lymphoma and, most recently, innovative applications in metastatic prostate cancer (Ga68- et Lu177-PSMA). 
For its part, the VUB is at the forefront of international developments in the field of vectors based on single domain fragments (sdAbs) for the purpose of radionuclide diagnosis and therapy. 
The Brussels RadioTheranostics Platform completes the existing arsenal in nuclear medicine and research infrastructures at partner institutions and brings nuclear therapeutic applications in Belgium to the very highest level. 
Presentation of the project by Dr Zéna Wimana (Sprint Event 2019, Nucleair Forum) : 
Attached: Photo of signing of the agreement between the Institut Jules Bordet and the VUB in the presence of : Jean Vereecken (Director of Association Vinçotte Nuclear / Emeritus Professor VUB), Tony Lahoutte (Chief of Nuclear Medicine at UZ Brussels), Caroline Pauwels (Rector VUB), Patrick Flamen (Chief of Nuclear Medicine at Jules Bordet Institute), Dominique de Valeriola (Medical General Director), Franck Deconinck (Director of Association Vinçotte Nuclear/ Emeritus Professor VUB)
Contact presse (Institut Jules Bordet)

Ariane van de Werve
Alexandra Cazan