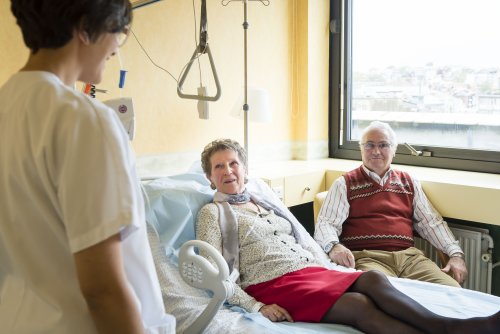 The aim of the oncology day hospital is to avoid hospitalisation with night stays while limiting the impact of the disease and its treatments on the personal, family, social and professional life of patients with cancer. 
The following may be carried out in the Day Hospital:
Conventional anti-cancer treatments (chemotherapy, targeted treatments, immunotherapy), as well as innovative treatments as part of clinical trials, with all pathologies and all stages included.

Support treatments: bisphosphonates, bone antiresorption treatment, immunoglobulins, antibiotics, intravenous iron, blood product transfusions, etc.

Some diagnostic and therapeutic procedures (pleural, ascites or lumbar punctures).
The Day Hospital of the Institut Jules Bordet has 12 single rooms with ensuite toilet facilities and 2 rooms with a total of 4 armchairs.
An extension in a 4-bed room (on the 4th floor) is available 3 days a week.
The patients are admitted from Monday to Friday, between 8.00 a.m. and 7.00 p.m.
A good understanding of the treatment plan is essential for the well-being of the patients having treatment. The first task of the medical and nursing team of the Day Hospital is therefore to inform the patient fully, and in an understandable manner, about the practical aspects and the potential side effects associated with the treatment prescribed by the medical oncologists or haematologists.
The out-patients medical management at the Day Hospital is part of a multidisciplinary approach:
The patients are managed by a nursing team specialised in cancer care and experienced in handling and managing any toxic reactions induced by some anti-cancer drugs.

A team of pharmacists and pharmacy assistants prepare and dilute the anti-cancer drugs. This unit, which is part of the Day Hospital, has been designed to ensure maximum efficacy and safety for the patients and care staff. 

Doctors specialised in medical oncology are always present at the Day Hospital to answer patients' questions, monitor them carefully and manage any side effects during their treatments.
Such a high level of requirements and excellence in patient care is constantly evolving. Due to its central location, the Day Hospital interacts with many specialities within the Institut Jules Bordet itself.
The Day Hospital works together in particular with the clinical research teams. Aim: to provide the best treatment and management of patients receiving innovative anti-cancer drugs in the context of clinical trials.
Furthermore, other types of clinical trials are carried out in close collaboration with many paramedical teams (dietetics, psycho-oncology, supportive care, etc.). They are set up to improve the out-patient management of patients receiving anti-cancer treatment.