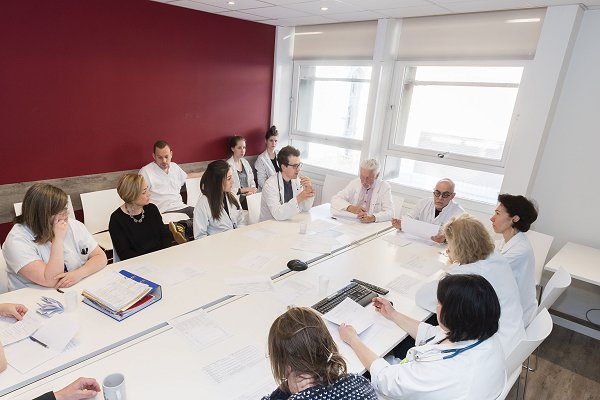 The Institut Jules Bordet Ethics Committee is an independent body whose role includes:
monitoring and advising on ethical aspects of hospital care practices;

assisting in decision-making on ethical aspects of individual cases;

giving its opinion on all protocols for experimentation on humans prior to implementation.
The opinions of the Ethics Committee are confidential. They are given in a reasoned report, sent exclusively to the applicant and reflect the different viewpoints of the Committee members.
The Committee may reject an application, giving a reasoned decision for this rejection.
Before submitting an opinion application file to the Ethics Committee, please contact the principal investigator's secretariat.
Next meeting of the Ethics Committee:


Thursday : 

18/03/2021
01/04/2021
15/04/2021
29/04/2021
20/05/2021
03/06/2021
17/06/2021
01/07/2021
15/07/2021
29/07/2021
12/08/2021
26/08/2021
09/09/2021
23/09/2021
07/10/2021
21/10/2021
04/11/2021
18/11/2021
02/12/2021
16/12/2021
Some members of the Ethics Committee, including Dr Bron, provide training in ethics and professional ethics. They are also members of the Belgian Bioethics Advisory Committee.
Team
President

Marianne Paesmans (*)

, 

Statistician

 with expertise in clinical research methodology, internal member


 

Vice-President
Academical Secretary

Bénédicte De Brabant (*),

internal member, 

Lawyer
 

Physician members, oncology experts
Member General Practitioner

Thierry Renard,

external member


 

Pharmacist

Coralie Deliens,

external member


 

Nurses

Patrick Crombez, 

internal member

Frédéric Hoerner,

 

internal member


 

Psycholog

Florence Lewis, in

ternal member


 

Lawyer

Bénédicte Cuylits,

internal member

, deputy
Stephania Greco,

internal member

, deputy
 

Statistician
Patients representatives

Roger Gioffredi,

external member

Patrick Miqueu,

internal member,

deputy

Secretary

Anne Spruyt
Dominique Roels
 
(*) Member of the Board of the Ethics Committee
30/09/2020