2022 Scientific Report - Jules Bordet Institute
News (16/03/2023)
2022 Scientific Report - Jules Bordet Institute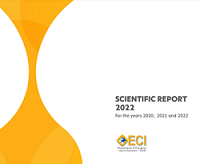 Leading-edge research and ambitious projects in the service of the fight against cancer 
Translational and clinical research are part of the Jules Bordet Institute's DNA. The aim is to bring research discoveries to the patient's bedside as quickly as possible. The   2020 – 2022 scientific report reflects the spirit of commitment and cooperation of the Institute's healthcare professionals, researchers and administrative support team as well as of the patients who place their trust in our teams and volunteer to participate in our clinical trials on the basis of this genuine partnership. 
Our aim is to offer a personalised and holistic approach geared to the various aspects of patient care, both medical and non-medical. In recent years our efforts have concentrated on identifying the Jules Bordet Institute's strengths with a view to developing research projects to accompany cancer patients and meet their most critical needs. These projects are prioritised on the basis of a number of criteria: (i) they bring practical changes to clinical practice, (ii) they require an academic contribution and (iii) they have a multidisciplinary dimension. 
Consequently, the Jules Bordet Institute's research agenda for 2020-2022 consists of 4 pillars: to dissect and understand tumour heterogeneity; to contribute to a precise and personalised oncology; to encourage innovation in managing cancer; to develop new approaches to patient autonomy and well-being. 
The Institute's recent move to the academic campus of the Université Libre de Bruxelles opens up every potential to develop strong synergies with the Erasmus general university hospital and the university's health faculties, in particular the university laboratories. The campus is a unique site where all the actors can help promote translational and clinical research as the basis for the most innovative care and teaching. As it pursues its ongoing development, the Jules Bordet Institute also remains committed to promoting academic research, notably via the European Organisation for Research and Treatment of Cancer (EORTC), the   Breast International Group (BIG), and the Oncodistinct network. In this context, the Jules Bordet Association's supporting role in cancer research is essential.
The new Jules Bordet Institute and the bringing together of three hospitals within the Brussels University Hospital (H.U.B.) offers a wide range of possibilities for our research teams and our partners, both university and private, present and future, and in Belgium and abroad   - all with the common goal of discovering new strategies to combat cancer and its consequences for patients and their loved ones!