Liver metastases from breast cancer
Press release (22/12/2020) 
Liver metastases from breast cancer
A new study makes it possible to select patients who will enjoy long-term benefits from surgery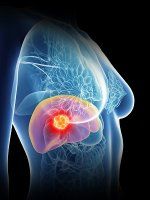 Brussels, 22 December 2020 – Researchers at the Jules Bordet Institute, the Belgian reference centre for a comprehensive fight against cancer, have published an article, in the prestigious British research journal Nature Publishing Journal Breast Cancer, on surgery for liver metastases secondary to breast cancer. This study, carried out in cooperation with the Antwerp and Leuven University Hospitals, shows that the results of surgery on liver metastases from breast cancer depend largely on the histological type of these metastases. This is an initial study that should soon enable oncologists to select those patients who will enjoy long-term benefits from a surgical treatment of liver metastases. 
When breast cancers progress, the development of liver metastases is frequent and represents a major cause of mortality among these patients. 
If these metastases are confined exclusively to the liver and are technically resectable, the surgical removal of these lesions can permit a very significant improvement in survival and, in certain cases, a cure.   However, as yet there are no factors that make it possible to predict which patients will benefit from this surgery in the long term.  The study published in Nature Publishing Journal Breast Cancer provides the first elements in answering this question. 
Two types of microstructures in liver metastases
The study in question, initiated by Professor Donckier, Head of the Department of Surgery at the Jules Bordet Institute, is a retrospective study based on a sample of around 40 patients. This enabled researchers to observe that liver metastases secondary to breast cancer could represent two types of microstructures in the liver:  a type where the cancer cells are surrounded by a rim of fibrous tissue (desmoplastic pattern) and another in which the cancer cells grow directly into the liver (infiltrating pattern).  
The results of surgery were observed to be very significantly better when the metastases presented the desmoplastic pattern, permitting long-term survival, whereas all patients who underwent surgery for metastases of the infiltrating pattern experienced a return of the cancer cells very soon after the operation. 
"In cancer surgery, the selection of patients is crucial. This is particularly true for surgery on liver metastases from breast cancer:  at present there is no reliable way of identifying patients who will benefit from this intervention as opposed to those for whom such surgery will, unfortunately, serve no purpose.  Our observations are promising.  We hope that they will be able to contribute to the development of a new and more personalised therapeutic decision-making model that guides the choice of treatment according to the cancer biology in each individual case," explains Professor Donckier.
This initial observation offers new prospects for a better selection of patients for surgery, for a better understanding of the different ways in which breast cancer spreads and, potentially, for developing new therapeutic approaches.
You will find the article titled « Association between the histopathological growth patterns of liver metastases and survival after hepatic surgery in breast cancer patients » by clicking on the following link: https://rdcu.be/ccqxa
The research work of Professor Donckier has been largely financed by the Friends of the Jules Bordet Institute, which is the Jules Bordet Institute's principal private donor, and by Fonds Ithier.
Press contact (Institut Jules Bordet)