Radiology – Medical Imaging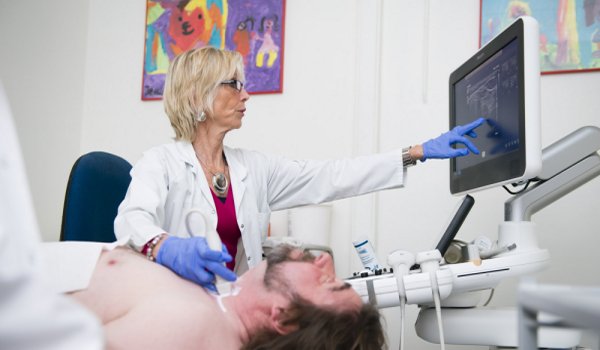 The radiology department of the Institut Jules Bordet  brings together the various medical imaging techniques, except for nuclear medicine.
The techniques concerned are:
conventional radiology (radiography including mammography and bone densitometry),

tomodensitometry (X-ray scanning), 

ultrasound (ultrasound imaging),

magnetic resonance imaging (MRI).
Although some interventional radiology techniques can have a therapeutic aim, the activities of the radiology department are mainly diagnostic. Our main tasks are:
the diagnostic identification of tumours, their extent and their complications,

the preparation of their treatment (in particular targeting the area to be irradiated),

monitoring the lesions under treatment.
These main tasks are performed in the context of a multidisciplinary collaboration. The radiology department therefore works closely with the nuclear medicine, medical, surgical and radiotherapy departments of the Institut Jules Bordet.
The senology platform brings together the most advanced techniques for the screening, the diagnosis and the characterisation of breast cancer:
numeric mammography with tomosynthesis,

two-and three-dimensional ultrasound,

stereotaxic biopsy,

breast MRI,

biopsies under MRI.
The tomodensitometry unit is equipped with 2 X-ray scanners.
One of the very latest dual energy scanners with a double tube. Its technology enables it to deliver very small doses of X-rays.

The second scanner is equipped for interventional radiology (biopsies or TDM-guided treatments).
The magnetic resonance unit is equipped with 2 MRI machines at the forefront of technology, one at 1.5 and the other at 3.0 Tesla (high field and wide-bore magnet). All the current techniques are available in it, from high-resolution ultra-localised imaging to whole-body imaging.
The ultrasound unit is in particular equipped with a co-recording system and fusion of TDM, MRI and/or nuclear medicine images in 3 dimensions to help with ultrasound-guided puncture of lesions.
The radiology department is a training unit recognised for the training of doctors specialising in radiodiagnostics. It permanently has 3 radiologists in training, as well as students on a masters in medicine course. It organises regular seminars recognised to be part of in-service training of specialist doctors.
The departmental doctors take part in teaching radiology and radioprotection at the Faculty of Medicine and at the School of Public Health of the ULB, as well as in teaching in paramedical sections of the HELB-Ilya Prigogine.
The department also welcomes trainees training to be medical technologists.
Research projects
Project 1
Development of a radiomics-based decision-making supporting tool for the management of pancreatic cancer patients
Project leader : Maria Antonietta Bali

Collaborations : Department of Gastroenterology Hopital Erasme, Department of Precision Medicine, Maastricht University
Project 2
Determination of a simplified prostatic MRI protocol as part of the initial detection of prostate cancer before biopsy with a view to targeted removal.
Project 3
Automated analysis methods of functional parameters (diffusion and tumoral vascularisation) in MRI as part of the diagnosis and monitoring of cancer lesions.
Project leader : Shih-Li Chao, Ig.

Collaboration : Erasmus University Hospitals, Magnetic Resonance Unit
Project 4
Advantages of whole-body MRI for the detection of metastatic lesions of the skeleton.
Project leader

: Jean Alexiou
Team
Head of Department
Abdominal and urogenital imaging clinic
Bone and articular imaging clinic
Chest and Cardiac Imaging Clinic
Neuroradiology clinic and head and neck imaging
Senology clinic and woman imaging
Interventional radiology clinic
PG

Dr Nicolas Naccarella
Dr Sébastien Azzi
Dr Ilias Bennouna
Dr Dunkan Petersbourg
Dr Adrien Saifi
Dr Giulia Sorce
 

 H

ead of nurses / technologists

M. Lionel Gantois - Head of nurses
M. Christophe Tragnee -  Nurse Adjunct Head 
M. Vassilios Koletsis - Technologist Adjunct Head
 

Secretariat (head of department)

Mrs Aurélie Van Nieuwenhuyse +32 (0)2 541 73 29
06/02/2023
Scientific publications
Role of the Prostate Imaging Quality PI-QUAL Score for Prostate Magnetic Resonance Image Quality in Pathological Upstaging After Radical Prostatectomy: A Multicentre European Study.
Authors : Windisch O, Benamran D, Dariane C, Favre MM, Djouhri M, Chevalier M, Guillaume B, Oderda M, Gatti M, Faletti R, Colinet V, Lefebvre Y, Bodard S, Diamand R, Fiard G
Year : 2023
Journal : Eur Urol Open Sci
Volume : 47
Pages : 94-101

Deep Epigastric Lymph Nodes Implication in Patients' Recurrence Pattern After Cytoreductive Surgery in Colorectal Peritoneal Metastases.
Authors : El Asmar A, Vouche M, Galdon MG, Bali MA, Sclafani F, Donckier V, Liberale G
Year : 2022
Journal : J Gastrointest Surg
Volume : 26
Pages : 1314-1317

Heterotopic ossification and severe COVID-19 infection.
Authors : Benkhaled S, Gomes da Silveira Cauduro C, Alexiou J, Jayankura M, Van Gestel D
Year : 2022
Journal : QJM
Volume : 115
Pages : 201-203

The role of perilesional and multiparametric resonance imaging-targeted biopsies to reduce the risk of upgrading at radical prostatectomy pathology: A retrospective monocentric study.
Authors : Diamand R, Hollans M, Lefebvre Y, Sirtaine N, Limani K, Hawaux E, Abou Zahr R, Mattlet A, Albisinni S, Roumeguère T, Peltier A
Year : 2022
Journal : Urol Oncol
Volume : 40
Pages : 192.e11-192.e17

An Atypical Behavior of Metastatic Lung Disease in a Young Woman With Osteosarcoma: A Case Report.
Authors : Acquisto A, Duran Derijckere I, De Angelis R
Year : 2022
Journal : Cureus
Volume : 14
Pages : e21589