The Department of Hematology is winner of the PACE Award from the BHS
Press release (07/02/2018)
Personalised patient follow-up during oral anticancer treatment
The Department of Hematology at the Jules Bordet Institute is winner of the PAtient CEntricity Award from the Belgian Hematology Society
Brussels, the 7th of February - This Saturday, 3 February, the Jules Bordet Institute was awarded a grant of 10,000 euros from the Belgian Hematology Society for its project for multidisciplinary consultation in hematology. A consultation that provides a specific and personalised follow-up for patients undergoing orally administered treatment against cancer. This project highlights the importance of follow-up adapted to the patient and his or her particular course of treatment during oral therapy.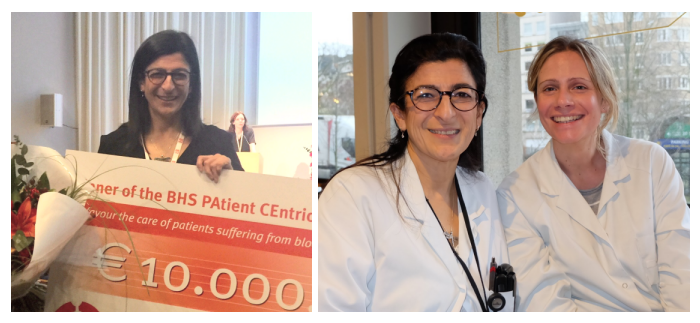 Treatments – and oral treatments in particular – are fast developing. These new forms of therapy give cause to reflect on patient support, given that the medicine is taken independently at home. In this context, regular and adapted patient follow-up and monitoring are essential.
The project presented by Zilfi Balci, the coordinating nurse in oncological care, is a part of this development in initiating nursing consultations in tandem with the pharmacist to ensure good practice in monitoring the oral administration of medicine. On one hand, the pharmacist informs on side effects and interactions with other medicines, while on the other hand the coordinating nursing teams in hematology provide effective control of proper administration of the medicine, follow-up of any side effects and ongoing support.
This project is part of a multidisciplinary vision of patient support: the medical team in hematology, the geriatrist, the neuropsychologist, the coordinating nurse and the pharmacist together ensure that the treatment is being properly followed, each within his or her key role in the care path.
The grant of 10,000 euros from the BHS will make it possible to train coordinators and to develop expertise in the follow-up of oral therapies. It will also finance the equipment required for effective patient follow-up. In short, this team work will make it possible to detect side effects more quickly and to better control interactions with other medicines or poor medicine administration. Patients will be able to go directly to their nurse in case of doubt or if they become discouraged. It thus offers genuine reassurance for the patients.
Enclosed :
picture of Zilfi Balci and Sophie Delaunois, coordinating nurses
picture of the PACE Award with Zilfi Balci.
Press contacts : 
Ariane van de Werve (Institut Jules Bordet)