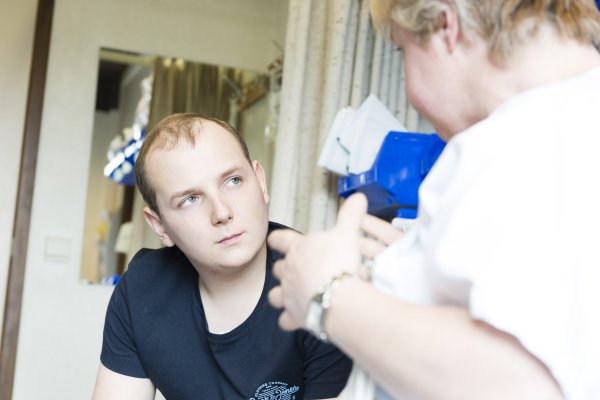 The Urology Department is responsible for the medical and surgical treatment of pathologies associated with the male and female urinary tract and the male genitalia.
Its activities are essentially diagnosis and treatment and the monitoring of cancerous and non-cancerous conditions affecting the prostate, kidneys, bladder and male genitalia.
As our work is principally oncological in nature, we operate a strongly multidisciplinary approach to the treatment of all cancerous conditions associated with the genitourinary system.
Our team therefore works in close and constant collaboration with the Institut Bordet's medical oncologists, radiotherapists, radiologists, nuclear medicine specialists and anatomopathologists.
The Institut Bordet Urology Department treats :
prostate conditions:

diagnosis of all prostate diseases

treatment of benign prostate hypertrophia

refinement (diagnosis) of prostate cancers via different examinations including biopsies conducted on an out-patient basis and under local anaesthesia

hormone treatments

surgical treatments mainly via robotic surgery

focused ultrasound prostate treatment.


 

Bladder conditions:

treatment of incontinence problems (surgery, rehabilitation, urodynamic testing, etc)

treatment of common bladder infections (for example, cystitis)

diagnosis and treatment of bladder polyps (via fluorescent light)

diagnosis and surgical treatment of malignant bladder tumours (cancers) with bladder reconstruction in cases of total organ ablation.
Kidney and ureteral conditions:

diagnosis and treatment of infectious diseases of the kidney (pyelonephritis, for example), renal calculi (kidney stones), etc.

diagnosis and treatment of benign kidney tumours (cysts, for example)

diagnosis and treatment of malignant tumours (cancers) of the kidney

robotic surgery.

Conditions affecting the male genitalia:

diagnosis and treatment of cancerous and non-cancerous tumours of the penis and testicles

laser treatment and sentinel node technique.
The Institut Bordet Urology Department is at the leading edge of fusion imaging, targeting and focused prostate cancer treatments (MRI – ultrasound – high frequency ultrasound).
Thanks to advances in medical imaging, in particular magnetic resonance imaging of the prostate, it is now possible to define suspect areas within the prostate. The Institut Bordet is the first centre to offer fusion imaging software. This software makes it possible to achieve very high precision guidance of the biopsies needed to characterise cancer. This fusion imaging is then exported in order to carry out focused treatment of the affected zones using high-energy ultrasound, thus allowing non-invasive, transrectal treatment of prostate cancer.
Scientific publications
Anterior vs. Retzius-sparing robotic assisted radical prostatectomy: can the approach really make a difference?
Authors : Albisinni S, Dasnoy C, Diamand R, Mjaess G, Aoun F, Esperto F, Porpiglia F, Fiori C, Roumeguere T, DE Nunzio C
Year : 2022
Journal : Minerva Urol Nephrol
Volume : 74
Pages : 137-145

Uncovering the role of urinary microbiota in urological tumors: a systematic review of literature.
Authors : Karam A, Mjaess G, Albisinni S, El Daccache Y, Farah M, Daou S, Kazzi H, Hassoun R, Bou Kheir G, Aoun F, Roumeguère T
Year : 2022
Journal : World J Urol
Volume : 40
Pages : 951-964

The role of perilesional and multiparametric resonance imaging-targeted biopsies to reduce the risk of upgrading at radical prostatectomy pathology: A retrospective monocentric study.
Authors : Diamand R, Hollans M, Lefebvre Y, Sirtaine N, Limani K, Hawaux E, Abou Zahr R, Mattlet A, Albisinni S, Roumeguère T, Peltier A
Year : 2022
Journal : Urol Oncol
Volume : 40
Pages : 192.e11-192.e17

Defining the Morbidity of Robot-Assisted Radical Cystectomy with Intracorporeal Urinary Diversion: Adoption of the Comprehensive Complication Index.
Authors : Albisinni S, Diamand R, Mjaess G, Aoun F, Assenmacher G, Assenmacher C, Verhoest G, Holz S, Naudin M, Ploussard G, Mari A, Minervini A, Tay A, Issa R, Roumiguié M, Bajeot AS, Simone G, Anceschi U, Umari P, Sridhar A, Kelly J, Hendricksen K, Einerhand S, Sandel N, Sanchez-Salas R, Colomer A, Quackels T, Peltier A, Montorsi F, Briganti A, Teoh JYC, Pradere B, Moschini M, Roumeguère T
Year : 2022
Journal : J Endourol
Volume : 36
Pages : 785-792

Urinary microbiota and prostatic diseases: the key for the lock? A systematic review.
Authors : Mjaess G, Karam A, Roumeguère T, Diamand R, Aoun F, McVary K, Moul JW, DE Nunzio C, Albisinni S
Year : 2022
Journal : Prostate Cancer Prostatic Dis