Clinical Cellular Therapy Research Laboratory (LTCC)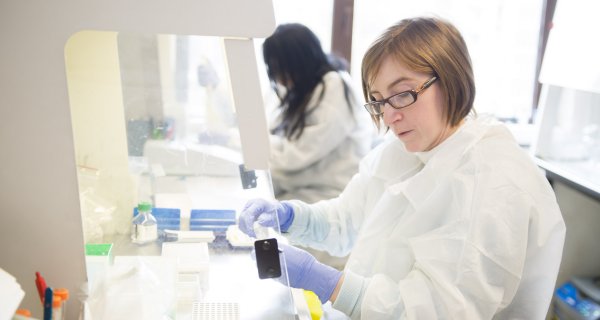 The Institut Bordet Clinical Cellular Therapy Research Laboratory (LTCC) is dedicated to fundamental and translational research in the fields of haematology and immunology cellular therapy.
The LTCC's main objectives concern:
study of the interaction between leukaemic cells and their microenvironment;

establishment of new prognostic factors;

development of new therapeutic strategies.
Within the field of cellular therapy, the LTCC is studying the functional characterisation of mesenchymal stromal cells obtained from different tissues and their manipulation with a view to increasing their therapeutic potential.
The LTCC is seeking to improve understanding of the physiopathology of chronic lymphoid leukaemia. We have identified new cellular, molecular and epigenetic biomarkers that help to refine patient prognosis and to guide the direction of treatment. An important part of our research focuses on the interaction between leukaemic cells and their microenvironment (via direct contact or via extracellular vesicles), involved in the progression of the disease and on means of interrupting this dialogue.
In the context of cellular therapy, the LTCC has characterised mesenchymal stromal cells (MSCs) from different tissue sources such as bone marrow, adipose tissue, umbilical cord, skin and muscle. The Laboratory's key interest is the mechanisms involved in the regulation of the different actors of immune response by MSCs and is developing methods to improve the therapeutic effects of MSCs. Research is also aimed at developing acellular systems based on the capacity of MSCs to release extracellular vesicles capable of mimicking their effects. These extracellular vesicles will be characterised in terms of transcriptome, miRNome and proteome.
Cellular therapy pilot studies are also initiated in collaboration with clinical teams after agreement by the Institut Bordet ethics committee.
The LTCC is involved in training students from the Faculty of Medicine, of Biomedical and Pharmaceutical Sciences and from the Hautes Écoles. Students are supervised as part of immersion courses, for their final dissertation and when completing a 4-year doctoral thesis. We are also involved in supervising theses by students from other universities.
Our team
Laboratory head
Laurence Lagneaux, PhD
The team
Basile Stamatopoulos, PhD
Karlien Pieters, laboratory technician
Florian Draguet, PhD student Télévie
Nathan Dubois, PhD student Télévie
Cyril Bouland, MD, PhD student
Florent Corrillon, scientific collaborator
Scientific publications
Genomic and transcriptomic correlates of Richter transformation in chronic lymphocytic leukemia.
Authors : Klintman J, Appleby N, Stamatopoulos B, Ridout K, Eyre TA, Robbe P, Pascua LL, Knight SJL, Dreau H, Cabes M, Popitsch N, Ehinger M, Martín-Subero JI, Campo E, Månsson R, Rossi D, Taylor JC, Vavoulis DV, Schuh A
Year : 2021
Journal : Blood
Volume : 137
Pages : 2800-2816

Immuno-comparative screening of adult-derived human liver stem/progenitor cells for immune-inflammatory-associated molecules.
Authors : Merimi M, Lagneaux L, Lombard CA, Agha DM, Bron D, Lewalle P, Meuleman N, Najimi M, Sokal EM, Najar M
Year : 2021
Journal : Inflamm Res
Volume : 70
Pages : 229-239

New Anti-Leukemic Effect of Carvacrol and Thymol Combination through Synergistic Induction of Different Cell Death Pathways.
Authors : Bouhtit F, Najar M, Moussa Agha D, Melki R, Najimi M, Sadki K, Boukhatem N, Bron D, Meuleman N, Hamal A, Lagneaux L, Lewalle P, Merimi M
Year : 2021
Journal : Molecules
Volume : 26

Priming of mesenchymal stem cells with a hydrosoluble form of curcumin allows keeping their mesenchymal properties for cell-based therapy development.
Authors : Colin M, Dechêne L, Ceusters J, Niesten A, Demazy C, Lagneaux L, Zouaoui Boudjeltia K, Franck T, Van Antwerpen P, Renard P, Mathieu V, Serteyn D
Year : 2021
Journal : J Cell Mol Med
Volume : 25
Pages : 4877-4881

Mesenchymal Stem/Stromal Cell Therapeutic Features: The Bridge between the Bench and the Clinic.
Authors : Merimi M, Lewalle P, Meuleman N, Agha DM, El-Kehdy H, Bouhtit F, Ayoub S, Burny A, Fahmi H, Lagneaux L, Najar M
Year : 2021
Journal : J Clin Med
Volume : 10