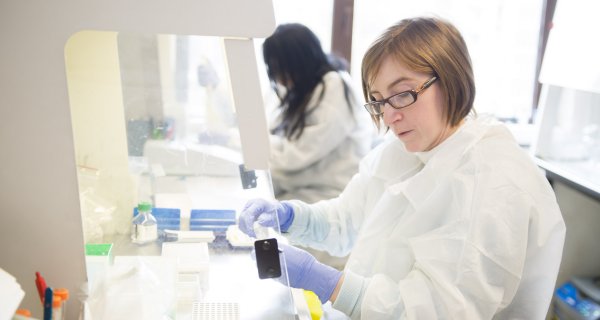 The Laboratory of Oncology and Experimental Surgery (LOCE) is a laboratory at the Institut Bordet recognised by the ULB Faculty of Medicine. It specialises in research into malignant melanoma and pigment cells in general. It combines fundamental research with preclinical and translational research. The LOCE has a self-contained cell culture unit which has established more than 150 primary lines and cultures of normal and tumour cells (mainly melanomas) and adheres to a rigorous quality control programme. The LOCE shares its cell cultures with some 80 research teams around the world.
The LOCE team researches and proposes new strategies in the targeted treatment of melanomas. For example, the combination of MAP kinase pathway inhibitors with a p53 protein activator – a "genome guardian" whose function is impaired in the great majority of melanomas. The aim is to overcome or better prevent resistance to current targeted drugs.
For melanomas presenting BRAF gene mutations (50% of patients), preclinical research has resulted in the development of an original clinical trial, currently being finalised at the Institut Bordet.
Other therapeutic combinations are also offered for mutated NRAS tumours as well as for those showing none of these mutations, which in fact covers all skin melanomas.
Melanoma is reputed to be resistant to radiotherapy. Research is therefore under way to examine the radiosensitising effects of new targeted drugs with a view to making these tumours far more sensitive to radiotherapy.
The LOCE is also working on new prognostic markers for melanoma, evaluated in metastases. For example, the level of expression of a protein called TYRP1, associated with the principal function of normal pigment cells (and preserved in the tumour cell), has a direct relation to a poorer prognosis in terms of patient survival.
Research projects
Project 1
EXPLORATION DE L'EFFET RADIOSENSIBILISATEUR DES MÉDICAMENTS CIBLÉS AINSI QUE LEURS COMBINAISONS UTILISÉS DANS LE MÉLANOME POUR AMÉLIORER LA SENSIBILITÉ DES TUMEURS À LA RADIOTHÉRAPIE.
Project 2
PROFILAGE DU KINOME COMME OUTIL PRÉDICTIF DE L'INIHIBITION DES MAPK DANS LE MÉLANOME ET COMME UNE NOUVELLE APPROCHE POUR ÉTUDIER LES MÉCANISMES DE RÉSISTANCE INTRINSÈQUE ET ACQUISE
Project 3
NOUVELLES ASSOCIATIONS MÉDICAMENTEUSES POUR TRAITER LE MÉLANOME MUQUEUX CKIT MUTÉ.
Project 4
LES PROHIBITINES (PHBS) : NOUVELLES CIBLES THÉRAPEUTIQUES POTENTIELLES DANS LE MÉLANOME.
Project 5
NOUVEAUX MARQUEURS PRONOSTIQUES ET DE PROGRESSION AU NIVEAU DES MÉTASTASES DU MÉLANOME.
The team
Direction
- Ahmad Awada (Director)
- Fabrice Journe (Associate Director)
- Ghanem Ghanem (Past Director)
Head of Unit
- Nadège Kindt
- Mohammad Krayem
- Zena Wimana
- Ahmad Najem
Post-Doc Researchers
- Renato Morandini
- Pashalina Kehagias
PhD Students
- Malak Sabbah
- Laura Soumoy
- Morgane Cogels
- Tycho de Bakker
- Ivan Duran, MD              
- Wendy Delbart
Technicians
- Sebahat Yildirim (Technical Manager)
- Isabelle Borsu
- Marie-Jeanne Gebski
- Marie-Lydie Pelgrims
- Philippe Mersch
- Lamine Mihoub
- Régis Van Keymeulen (Secretary)
- Leila Berdouz (Data Manager)

11/03/2022
Scientific publications
Development of fluorizoline analogues as prohibitin ligands that modulate C-RAF signaling, p21 expression and melanogenesis.
Authors : Chouha N, Abou-Hamdan H, Yurugi H, Yoshii R, Ii H, Najem A, Ghanem GE, Nakata S, Rajalingam K, Peng Y, Wang D, Nebigil CG, Désaubry L
Year : 2022
Journal : Eur J Med Chem
Volume : 242
Pages : 114635

Immune Cell Density Evaluation Improves the Prognostic Values of Staging and p16 in Oropharyngeal Cancer.
Authors : Descamps G, Furgiuele S, Mhaidly N, Journe F, Saussez S
Year : 2022
Journal : Cancers (Basel)
Volume : 14

Regorafenib Induces Senescence and Epithelial-Mesenchymal Transition in Colorectal Cancer to Promote Drug Resistance.
Authors : Kehagias P, Kindt N, Krayem M, Najem A, Agostini G, Acedo Reina E, Bregni G, Sclafani F, Journe F, Awada A, Ghanem GE, Hendlisz A
Year : 2022
Journal : Cells
Volume : 11

Bufalin for an innovative therapeutic approach against cancer.
Authors : Soumoy L, Ghanem GE, Saussez S, Journe F
Year : 2022
Journal : Pharmacol Res
Volume : 184
Pages : 106442

Dealing with Macrophage Plasticity to Address Therapeutic Challenges in Head and Neck Cancers.
Authors : Furgiuele S, Descamps G, Cascarano L, Boucq A, Dubois C, Journe F, Saussez S
Year : 2022
Journal : Int J Mol Sci
Volume : 23