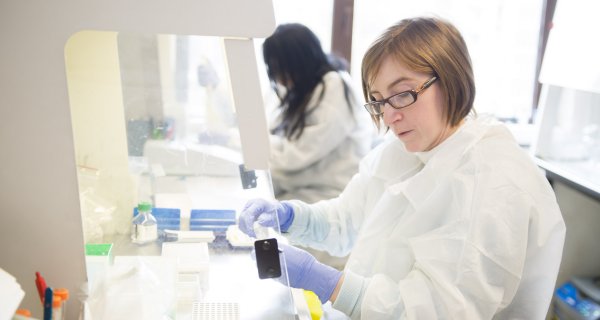 The Laboratory of Oncology and Experimental Surgery (LOCE) is a laboratory at the Institut Bordet recognised by the ULB Faculty of Medicine. It specialises in research into malignant melanoma and pigment cells in general. It combines fundamental research with preclinical and translational research. The LOCE has a self-contained cell culture unit which has established more than 150 primary lines and cultures of normal and tumour cells (mainly melanomas) and adheres to a rigorous quality control programme. The LOCE shares its cell cultures with some 80 research teams around the world.
The LOCE team researches and proposes new strategies in the targeted treatment of melanomas. For example, the combination of MAP kinase pathway inhibitors with a p53 protein activator – a "genome guardian" whose function is impaired in the great majority of melanomas. The aim is to overcome or better prevent resistance to current targeted drugs.
For melanomas presenting BRAF gene mutations (50% of patients), preclinical research has resulted in the development of an original clinical trial, currently being finalised at the Institut Bordet.
Other therapeutic combinations are also offered for mutated NRAS tumours as well as for those showing none of these mutations, which in fact covers all skin melanomas.
Melanoma is reputed to be resistant to radiotherapy. Research is therefore under way to examine the radiosensitising effects of new targeted drugs with a view to making these tumours far more sensitive to radiotherapy.
The LOCE is also working on new prognostic markers for melanoma, evaluated in metastases. For example, the level of expression of a protein called TYRP1, associated with the principal function of normal pigment cells (and preserved in the tumour cell), has a direct relation to a poorer prognosis in terms of patient survival.
Research projects
Project 1
EXPLORATION DE L'EFFET RADIOSENSIBILISATEUR DES MÉDICAMENTS CIBLÉS AINSI QUE LEURS COMBINAISONS UTILISÉS DANS LE MÉLANOME POUR AMÉLIORER LA SENSIBILITÉ DES TUMEURS À LA RADIOTHÉRAPIE.
Project 2
PROFILAGE DU KINOME COMME OUTIL PRÉDICTIF DE L'INIHIBITION DES MAPK DANS LE MÉLANOME ET COMME UNE NOUVELLE APPROCHE POUR ÉTUDIER LES MÉCANISMES DE RÉSISTANCE INTRINSÈQUE ET ACQUISE
Project 3
NOUVELLES ASSOCIATIONS MÉDICAMENTEUSES POUR TRAITER LE MÉLANOME MUQUEUX CKIT MUTÉ.
Project 4
LES PROHIBITINES (PHBS) : NOUVELLES CIBLES THÉRAPEUTIQUES POTENTIELLES DANS LE MÉLANOME.
Project 5
NOUVEAUX MARQUEURS PRONOSTIQUES ET DE PROGRESSION AU NIVEAU DES MÉTASTASES DU MÉLANOME.
Scientific publications
The Benefit of Reactivating p53 under MAPK Inhibition on the Efficacy of Radiotherapy in Melanoma.
Authors : Krayem M, Sabbah M, Najem A, Wouters A, Lardon F, Simon S, Sales F, Journe F, Awada A, Ghanem GE, Van Gestel D
Year : 2019
Journal : Cancers (Basel)
Volume : 11

Clinical outcomes of laryngopharyngeal reflux treatment: A systematic review and meta-analysis.
Authors : Lechien JR, Saussez S, Schindler A, Karkos PD, Hamdan AL, Harmegnies B, De Marrez LG, Finck C, Journe F, Paesmans M, Vaezi MF
Year : 2019
Journal : Laryngoscope
Volume : 129
Pages : 1174-1187

Involvement of HPV Infection in the Release of Macrophage Migration Inhibitory Factor in Head and Neck Squamous Cell Carcinoma.
Authors : Kindt N, Descamps G, Lechien JR, Remmelink M, Colet JM, Wattiez R, Berchem G, Journe F, Saussez S
Year : 2019
Journal : J Clin Med
Volume : 8

Age-related changes in the BACH2 and PRDM1 genes in lymphocytes from healthy donors and chronic lymphocytic leukemia patients.
Authors : Chi VLD, Garaud S, De Silva P, Thibaud V, Stamatopoulos B, Berehad M, Gu-Trantien C, Krayem M, Duvillier H, Lodewyckx JN, Willard-Gallo K, Sibille C, Bron D
Year : 2019
Journal : BMC Cancer
Volume : 19
Pages : 81

Role of Macrophage Migration Inhibitory Factor (MIF) in Melanoma.
Authors : Soumoy L, Kindt N, Ghanem G, Saussez S, Journe F
Year : 2019
Journal : Cancers (Basel)
Volume : 11