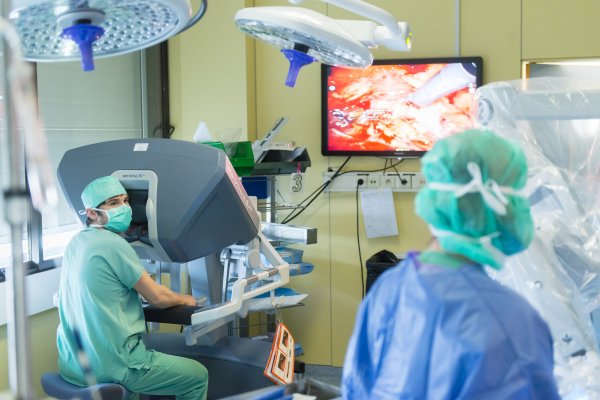 The principal mission of the Institut Bordet Department of Surgery is the surgical treatment of cancerous diseases.
More specifically, our surgeons strive to:
offer leading-edge surgical techniques in the treatment of cancer;

integrate surgery into global cancer treatment;

encourage approaches combining surgery and other treatments such as chemotherapy, radiotherapy, nuclear medicine, interventional radiology, immunotherapy, etc;

promote research and develop innovative treatments;

collaborate at national and international levels with other cancer centres;

teach surgery to medical students and future surgeons;

train surgeons specifically in oncological surgery.
The Institut Bordet Department of Surgery comprises 6 specific fields:
Cervicofacial and Thoracic Surgery

Digestive Surgery

Breast and Pelvic Surgery

Bone and Connective Tissue Tumour Surgery

Cancer Reconstructive Surgery

Skin Tumour Surgery.
In each discipline, the Department of Surgery develops an integrated and individualised approach using leading-edge techniques and technologies.
In individualised treatment, the aim is to adapt the therapeutic options to each patient. This means that surgical treatment is adapted to meet the specific characteristics of the cancer and the particular circumstances and requests of patients.


 

Surgical techniques evolve. New treatments are regularly being developed. Each field of surgery participates in advances in its discipline, both from the viewpoint of diagnostic methods and the treatments themselves. The Institut Bordet follows these developments very closely. Our surgeons train in the latest techniques and the Department of Surgery regularly acquires the new equipment and instruments needed to develop new treatment options.


 

Surgical treatments are always integrated into global patient care as part of a multidisciplinary collaboration. The Department and the Hospital are organised to help optimise these collaborations between the different surgical disciplines and with all the departments involved in patient care and treatment. In each field, treatments are discussed on a weekly basis at multidisciplinary cancer care meetings (CMOs) involving different specialist doctors.
The Institut Bordet Department of Surgery is involved in teaching in the Faculty of Medicine, on different inter-university diploma courses and in the Hautes Écoles nursing colleges.
The Department of Surgery teaches surgery to students from the Faculty of Medicine and, in particular, the specificities of oncological surgery. This teaching is also delivered to students and young doctors coming from abroad.
Scientific publications
Tumor biology reflected by histological growth pattern is more important than surgical margin for the prognosis of patients undergoing resection of colorectal liver metastases.
Authors : Bohlok A, Inchiostro L, Lucidi V, Vankerckhove S, Hendlisz A, Van Laethem JL, Craciun L, Demetter P, Larsimont D, Dirix L, Vermeulen P, Donckier V
Year : 2023
Journal : Eur J Surg Oncol
Volume : 49
Pages : 217-224

ASO Author Reflections: Preoperative Serological Biomarkers as Novel Prognostic Factors in Patients with Peritoneal Metastases of Colorectal Cancer Origin.
Authors : El Asmar A, Liberale G
Year : 2023
Journal : Ann Surg Oncol
Volume : 30
Pages : 1870-1871

ASO Visual Abstract: The Prognostic Value of Distinct Histological Growth Patterns of Colorectal Peritoneal Metastases-A Pilot Study.
Authors : El Asmar A, Demetter P, Fares F, Sclafani F, Hendlisz A, Donckier V, Vermeulen P, Liberale G
Year : 2023
Journal : Ann Surg Oncol

ASO Visual Abstract: Prognostic Value of Preoperative Serological Biomarkers in Patients Undergoing Curative-Intent Cytoreductive Surgery for Colorectal Cancer Peritoneal Metastases.
Authors : El Asmar A, Delcourt M, Kamden L, Khaled C, Bohlok A, Moreau M, Sclafani F, Donckier V, Liberale G
Year : 2023
Journal : Ann Surg Oncol
Volume : 30
Pages : 1872-1873

ASO Author Reflections: Peritoneal Metastases of Colorectal Origin Exhibit Distinct Histological Growth Patterns with a Potential Prognostic Value.
Authors : El Asmar A, Liberale G
Year : 2023
Journal : Ann Surg Oncol