Breast Cancer Translational Research Laboratory J.C. Heuson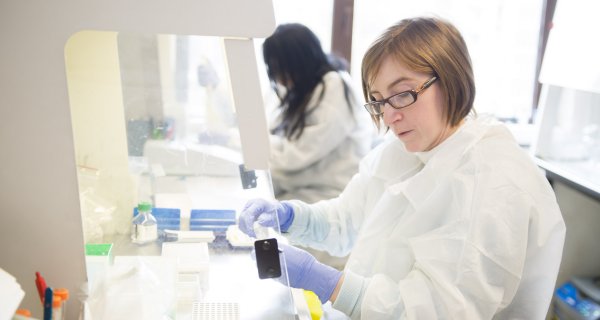 The aim of the Institut Bordet J.-C. Heuson Breast Cancer Translational Research Laboratory (BCTL) is to facilitate the transfer of scientific discoveries about breast cancer that are made in the laboratory into clinical practice. It seeks to improve the molecular characterisation of breast cancer through the use of leading-edge technologies. A particular objective is to improve understanding of the biology of these cancers and of the mechanisms involved in resistance to treatment.
The principal objective of research at the BCTL is to improve our understanding of the biology of breast cancer and of the propagation and progression of the disease at a molecular level by using leading-edge technologies such as high throughput DNA sequencing. The Laboratory has developed a number of prognostic and predictive gene signatures, notably the Genomic Grade Index (GGI). This Index makes it possible to classify patients into different prognostic groups and to identify which of them will derive significant benefit from chemotherapy or hormone therapy.
Professor Sotiriou's team is also studying the molecular heterogeneity of breast cancer, from the viewpoint of both inter- and intra-patient variability, and is seeking to identify the mechanisms associated with sensitivity and resistance to treatment.
Alongside this, the team is developing a number of research projects involving liquid biopsies, in particular the characterisation of tumour DNA circulating in the bloodstream. This tool is promising for the monitoring of cancerous disease, the early detection of recurrence and the evaluation of response/resistance to a treatment. The results of this research should offer new prospects for the therapeutic treatment of patients affected by breast cancer.
The BCTL is involved in training students from the ULB Faculty of Medicine and Biomedical Sciences. In particular, each year we welcome students in the process of completing their final dissertation. We also supervise students completing their doctoral thesis in Biomedical Sciences (4 to 6 students over a 4-year period).
Our team
Head of BCTL
Prof Christos Sotiriou, MD PhD
Team
Françoise Rothé, PhD, Doctor of Sciences
Floriane Dupont, PhD Student (Biomedical Sciences)
Mattia Rediti, PhD Student (Biomedical Sciences)
Mariana Brandao, Research Fellow
XiaoXiao, PhD Student (Biomedical Sciences)
Andrea Joaquin Garcia, PhD Student (Bioinformatics)
David Venet, PhD, Post-Doc Bioinformatics
David Gacquer, Post-Doc Bioinformatics
Laurence Buisseret, PhD, Post-Doc Bioinformatics
Danai Fimereli, PhD, Post-Doc Bioinformatics
Samira Majjaj, Technician
Ghizlane Rouas, Technician
Delphine Vincent, Technician
Alfonsa Laragione, Technician
Administrative assistant
Julie Noël
15/01/2020
Scientific publications
Lessons learned at SABCS 2019 and to-dos from immunotherapy in breast cancer.
Authors : Eiger D, Brandão M, de Azambuja E
Year : 2020
Journal : ESMO Open
Volume : 5

A Microfluidic Ion Sensor Array.
Authors : Wu C, Selberg J, Nguyen B, Pansodtee P, Jia M, Dechiraju H, Teodorescu M, Rolandi M
Year : 2020
Journal : Small
Pages : e1906436

Computed tomography-based analyses of baseline body composition parameters and changes in breast cancer patients under treatment with CDK 4/6 inhibitors.
Authors : Franzoi MA, Vandeputte C, Eiger D, Caparica R, Brandão M, de Angelis C, Hendlisz A, Awada A, Piccart-Gebhart M, de Azambuja E
Year : 2020
Journal : Breast Cancer Res Treat

Anticoagulant therapies and outcomes in obese patients with acute venous thromboembolism.
Authors : Quan S, Smith J, Wu C, Koshman SL, Nguyen B, Bungard TJ
Year : 2020
Journal : Thromb Res
Volume : 187
Pages : 56-62

Tumor sequencing is useful to refine the analysis of germline variants in unexplained high-risk breast cancer families.
Authors : Van Marcke C, Helaers R, De Leener A, Merhi A, Schoonjans CA, Ambroise J, Galant C, Delrée P, Rothé F, Bar I, Khoury E, Brouillard P, Canon JL, Vuylsteke P, Machiels JP, Berlière M, Limaye N, Vikkula M, Duhoux FP
Year : 2020
Journal : Breast Cancer Res
Volume : 22
Pages : 36