Breast Cancer Translational Research Laboratory J.C. Heuson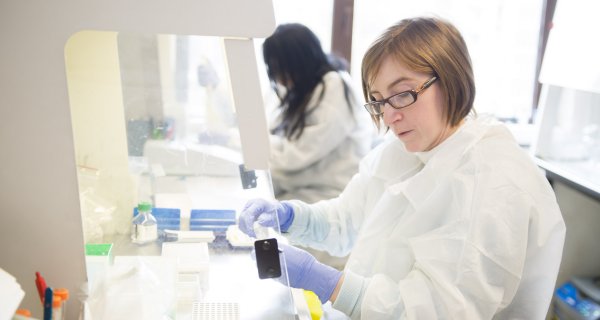 The aim of the Institut Bordet J.-C. Heuson Breast Cancer Translational Research Laboratory (BCTL) is to facilitate the transfer of scientific discoveries about breast cancer that are made in the laboratory into clinical practice. It seeks to improve the molecular characterisation of breast cancer through the use of leading-edge technologies. A particular objective is to improve understanding of the biology of these cancers and of the mechanisms involved in resistance to treatment.
The principal objective of research at the BCTL is to improve our understanding of the biology of breast cancer and of the propagation and progression of the disease at a molecular level by using leading-edge technologies such as high throughput DNA sequencing. The Laboratory has developed a number of prognostic and predictive gene signatures, notably the Genomic Grade Index (GGI). This Index makes it possible to classify patients into different prognostic groups and to identify which of them will derive significant benefit from chemotherapy or hormone therapy.
Professor Sotiriou's team is also studying the molecular heterogeneity of breast cancer, from the viewpoint of both inter- and intra-patient variability, and is seeking to identify the mechanisms associated with sensitivity and resistance to treatment.
Alongside this, the team is developing a number of research projects involving liquid biopsies, in particular the characterisation of tumour DNA circulating in the bloodstream. This tool is promising for the monitoring of cancerous disease, the early detection of recurrence and the evaluation of response/resistance to a treatment. The results of this research should offer new prospects for the therapeutic treatment of patients affected by breast cancer.
The BCTL is involved in training students from the ULB Faculty of Medicine and Biomedical Sciences. In particular, each year we welcome students in the process of completing their final dissertation. We also supervise students completing their doctoral thesis in Biomedical Sciences (4 to 6 students over a 4-year period).
Our team
Head of BCTL
Prof Christos Sotiriou, MD PhD
Team
Françoise Rothé, PhD, Doctor of Sciences
Floriane Dupont, PhD Student (Biomedical Sciences)
Mattia Rediti, PhD Student (Biomedical Sciences)
Mariana Brandao, Research Fellow
XiaoXiao, PhD Student (Biomedical Sciences)
Andrea Joaquin Garcia, PhD Student (Bioinformatics)
David Venet, PhD, Post-Doc Bioinformatics
David Gacquer, Post-Doc Bioinformatics
Laurence Buisseret, PhD, Post-Doc Bioinformatics
Danai Fimereli, PhD, Post-Doc Bioinformatics
Samira Majjaj, Technician
Ghizlane Rouas, Technician
Delphine Vincent, Technician
Alfonsa Laragione, Technician
Administrative assistant
Julie Noël
15/01/2020
Scientific publications
Fat1 deletion promotes hybrid EMT state, tumour stemness and metastasis.
Authors : Pastushenko I, Mauri F, Song Y, de Cock F, Meeusen B, Swedlund B, Impens F, Van Haver D, Opitz M, Thery M, Bareche Y, Lapouge G, Vermeersch M, Van Eycke YR, Balsat C, Decaestecker C, Sokolow Y, Hassid S, Perez-Bustillo A, Agreda-Moreno B, Rios-Buceta L, Jaen P, Redondo P, Sieira-Gil R, Millan-Cayetano JF, Sanmatrtin O, DHaene N, Moers V, Rozzi M, Blondeau J, Lemaire S, Scozzaro S, Janssens V, De Troya M, Dubois C, Pérez-Morga D, Salmon I, Sotiriou C, Helmbacher F, Blanpain C
Year : 2021
Journal : Nature
Volume : 589
Pages : 448-455

Body Mass Index and Weight Change in Patients With HER2-Positive Early Breast Cancer: Exploratory Analysis of the ALTTO BIG 2-06 Trial.
Authors : Martel S, Lambertini M, Agbor-Tarh D, Ponde NF, Gombos A, Paterson V, Hilbers F, Korde L, Manukyants A, Dueck A, Maurer C, Piccart M, Moreno-Aspitia A, Desmedt C, Di Cosimo S, de Azambuja E
Year : 2021
Journal : J Natl Compr Canc Netw
Pages : 1-9

Activation of the interferon signaling pathway is associated with resistance to CDK4/6 inhibitors and immune checkpoint activation in ER-positive breast cancer.
Authors : de Angelis C, Fu X, Cataldo ML, Nardone A, Pereira R, Veeraraghavan J, Nanda S, Qin L, Sethunath V, Wang T, Hilsenbeck SG, Benelli M, Migliaccio I, Malorni L, Litchfield LM, Liu J, Donaldson J, Selenica P, Brown DN, Weigelt B, Reis-Filho JS, Park BH, Hurvitz SA, Slamon DJ, Rimawi MF, Jansen VM, Jeselsohn R, Osborne CK, Schiff R
Year : 2021
Journal : Clin Cancer Res

Clinical behavior and outcomes of breast cancer in young women with germline BRCA pathogenic variants.
Authors : Lambertini M, Ceppi M, Hamy AS, Caron O, Poorvu PD, Carrasco E, Grinshpun A, Punie K, Rousset-Jablonski C, Ferrari A, Paluch-Shimon S, Toss A, Senechal C, Puglisi F, Pogoda K, Pérez-Fidalgo JA, De Marchis L, Ponzone R, Livraghi L, Estevez-Diz MDP, Villarreal-Garza C, Dieci MV, Clatot F, Duhoux FP, Graffeo R, Teixeira L, Córdoba O, Sonnenblick A, Ferreira AR, Partridge AH, Di Meglio A, Saule C, Peccatori FA, Bruzzone M, tKint de Roodenbeke MD, Ameye L, Balmaña J, Del Mastro L, Azim HA Jr
Year : 2021
Journal : NPJ Breast Cancer
Volume : 7
Pages : 16

Reactive stroma and trastuzumab resistance in HER2-positive early breast cancer.
Authors : Sonnenblick A, Salmon-Divon M, Salgado R, Dvash E, Pondé N, Zahavi T, Salmon A, Loibl S, Denkert C, Joensuu H, Ameye L, Van den Eynden G, Kellokumpu-Lehtinen PL, Azaria A, Loi S, Michiels S, Richard F, Sotiriou C
Year : 2020
Journal : Int J Cancer
Volume : 147
Pages : 266-276