Breast Cancer Translational Research Laboratory J.C. Heuson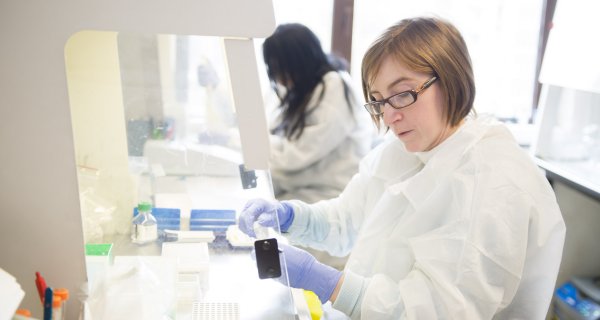 The aim of the Institut Bordet J.-C. Heuson Breast Cancer Translational Research Laboratory (BCTL) is to facilitate the transfer of scientific discoveries about breast cancer that are made in the laboratory into clinical practice. It seeks to improve the molecular characterisation of breast cancer through the use of leading-edge technologies. A particular objective is to improve understanding of the biology of these cancers and of the mechanisms involved in resistance to treatment.
The principal objective of research at the BCTL is to improve our understanding of the biology of breast cancer and of the propagation and progression of the disease at a molecular level by using leading-edge technologies such as high throughput DNA sequencing. The Laboratory has developed a number of prognostic and predictive gene signatures, notably the Genomic Grade Index (GGI). This Index makes it possible to classify patients into different prognostic groups and to identify which of them will derive significant benefit from chemotherapy or hormone therapy.
Professor Sotiriou's team is also studying the molecular heterogeneity of breast cancer, from the viewpoint of both inter- and intra-patient variability, and is seeking to identify the mechanisms associated with sensitivity and resistance to treatment.
Alongside this, the team is developing a number of research projects involving liquid biopsies, in particular the characterisation of tumour DNA circulating in the bloodstream. This tool is promising for the monitoring of cancerous disease, the early detection of recurrence and the evaluation of response/resistance to a treatment. The results of this research should offer new prospects for the therapeutic treatment of patients affected by breast cancer.
The BCTL is involved in training students from the ULB Faculty of Medicine and Biomedical Sciences. In particular, each year we welcome students in the process of completing their final dissertation. We also supervise students completing their doctoral thesis in Biomedical Sciences (4 to 6 students over a 4-year period).
Our team
Head of BCTL
Prof Christos Sotiriou, MD PhD
Team
Françoise Rothé, PhD, Doctor of Sciences
Floriane Dupont, PhD Student (Biomedical Sciences)
Mattia Rediti, PhD Student (Biomedical Sciences)
Mariana Brandao, Research Fellow
Xiao Xiao Wang, PhD Student (Biomedical Sciences)
Andrea Joaquin Garcia, PhD Student (Bioinformatics)
David Venet, PhD, Post-Doc Bioinformatics
David Gacquer, Post-Doc Bioinformatics
Laurence Buisseret, PhD, Post-Doc Bioinformatics
Danai Fimereli, PhD, Post-Doc Bioinformatics
Samira Majjaj, Technician
Ghizlane Rouas, Technician
Delphine Vincent, Technician
Alfonsa Laragione, Technician
Matteo Serra, PhD Student (Bioinformatics)
Laetitia Collet, Medical fellow
Ismahene Mesnah, Phd Student
Frédérick Cailleux, PhD, Post-Doc
Andreas Papagiannis, Phd Student (Bioinformatics)
Administrative assistant
Loteda Hasku
12/04/2021
Scientific publications
Predictive Biomarkers for Response to Immunotherapy in Triple Negative Breast Cancer: Promises and Challenges.
Authors : Wang X, Collet L, Rediti M, Debien V, De Caluwé A, Venet D, Romano E, Rothé F, Sotiriou C, Buisseret L
Year : 2023
Journal : J Clin Med
Volume : 12

Reply to S. Di Cosimo et al.
Authors : Agostinetto E, Venet D, Ignatiadis M, Kalashnikova E
Year : 2023
Journal : JCO Precis Oncol
Volume : 7
Pages : e2200644

Ontogeny and Vulnerabilities of Drug-Tolerant Persisters in HER2+ Breast Cancer.
Authors : Chang CA, Jen J, Jiang S, Sayad A, Mer AS, Brown KR, Nixon AML, Dhabaria A, Tang KH, Venet D, Sotiriou C, Deng J, Wong KK, Adams S, Meyn P, Heguy A, Skok JA, Tsirigos A, Ueberheide B, Moffat J, Singh A, Haibe-Kains B, Khodadadi-Jamayran A, Neel BG
Year : 2022
Journal : Cancer Discov
Volume : 12
Pages : 1022-1045

Incorporation of TILs in daily breast cancer care: how much evidence can we bear?
Authors : Lænkholm AV, Callagy G, Balancin M, Bartlett JMS, Sotiriou C, Marchio C, Kok M, Dos Anjos CH, Salgado R
Year : 2022
Journal : Virchows Arch
Volume : 480
Pages : 147-162

Tumor infiltrating lymphocyte stratification of prognostic staging of early-stage triple negative breast cancer.
Authors : Loi S, Salgado R, Adams S, Pruneri G, Francis PA, Lacroix-Triki M, Joensuu H, Dieci MV, Badve S, Demaria S, Gray R, Munzone E, Drubay D, Lemonnier J, Sotiriou C, Kellokumpu-Lehtinen PL, Vingiani A, Gray K, André F, Denkert C, Piccart-Gebhart M, Roblin E, Michiels S
Year : 2022
Journal : NPJ Breast Cancer
Volume : 8
Pages : 3