Breast Cancer Translational Research Laboratory J.C. Heuson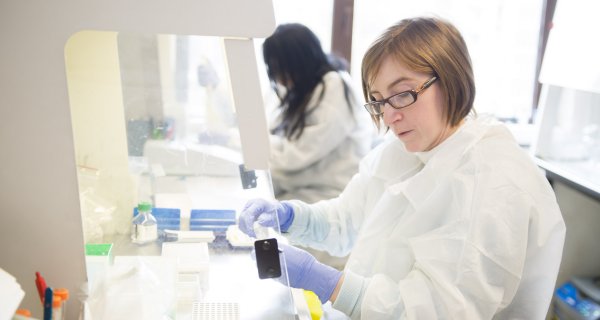 The aim of the Institut Bordet J.-C. Heuson Breast Cancer Translational Research Laboratory (BCTL) is to facilitate the transfer of scientific discoveries about breast cancer that are made in the laboratory into clinical practice. It seeks to improve the molecular characterisation of breast cancer through the use of leading-edge technologies. A particular objective is to improve understanding of the biology of these cancers and of the mechanisms involved in resistance to treatment.
The principal objective of research at the BCTL is to improve our understanding of the biology of breast cancer and of the propagation and progression of the disease at a molecular level by using leading-edge technologies such as high throughput DNA sequencing. The Laboratory has developed a number of prognostic and predictive gene signatures, notably the Genomic Grade Index (GGI). This Index makes it possible to classify patients into different prognostic groups and to identify which of them will derive significant benefit from chemotherapy or hormone therapy.
Professor Sotiriou's team is also studying the molecular heterogeneity of breast cancer, from the viewpoint of both inter- and intra-patient variability, and is seeking to identify the mechanisms associated with sensitivity and resistance to treatment.
Alongside this, the team is developing a number of research projects involving liquid biopsies, in particular the characterisation of tumour DNA circulating in the bloodstream. This tool is promising for the monitoring of cancerous disease, the early detection of recurrence and the evaluation of response/resistance to a treatment. The results of this research should offer new prospects for the therapeutic treatment of patients affected by breast cancer.
The BCTL is involved in training students from the ULB Faculty of Medicine and Biomedical Sciences. In particular, each year we welcome students in the process of completing their final dissertation. We also supervise students completing their doctoral thesis in Biomedical Sciences (4 to 6 students over a 4-year period).
Scientific publications
Reproductive potential and performance of fertility preservation strategies in BRCA-mutated breast cancer patients.
Authors : Lambertini M, Goldrat O, Ferreira AR, Dechene J, Azim HA Jr, Desir J, Delbaere A, tKint de Roodenbeke MD, de Azambuja E, Ignatiadis M, Demeestere I
Year : 2018
Journal : Ann Oncol
Volume : 29(1)
Pages : 237-243

A gene signature to predict high tumour-infiltrating lymphocytes after neoadjuvant chemotherapy and outcome in patients with triple negative breast cancer.
Authors : Criscitiello C, Bayar MA, Curigliano G, Symmans FW, Desmedt C, Bonnefoi H, Sinn B, Pruneri G, Vicier C, Pierga JY, Denkert C, Loibl S, Sotiriou C, Michiels S, André F
Year : 2018
Journal : Ann Oncol
Volume : 29(1)
Pages : 162-169

p-STAT3 in luminal breast cancer: Integrated RNA-protein pooled analysis and results from the BIG 2-98 phase III trial.
Authors : Sonnenblick A, Salgado R, Brohée S, Zahavi T, Peretz T, Van den Eynden G, Rouas G, Salmon A, Francis PA, Di Leo A, Crown JPA, Viale G, Daly L, Javdan B, Fujisawa S, de Azambuja E, Lieveke A, Piccart MJ, Bromberg JF, Sotiriou C
Year : 2018
Journal : Int J Oncol
Volume : 52(2)
Pages : 424-432

Clinical significance of CD73 in triple-negative breast cancer: multiplex analysis of a phase III clinical trial.
Authors : Buisseret L, Pommey S, Allard B, Garaud S, Bergeron M, Cousineau I, Ameye L, Bareche Y, Paesmans M, Crown JPA, Di Leo A, Loi S, Piccart-Gebhart M, Willard-Gallo K, Sotiriou C, Stagg J
Year : 2018
Journal : Ann Oncol
Volume : 29(4)
Pages : 1056-62

The use of breast imaging for predicting response to neoadjuvant lapatinib, trastuzumab and their combination in HER2-positive breast cancer: Results from Neo-ALTTO.
Authors : Di Cosimo S, Campbell C, Azim HA Jr, Galli G, Bregni G, Curigliano G, Criscitiello C, Izquierdo M, de la Pena L, Fumagalli D, Fein L, Vinholes J, Ng WMJ, Colleoni M, Ferro A, Naume BJ, Patel A, Huober J, Piccart-Gebhart M, Baselga J, de Azambuja E
Year : 2018
Journal : Eur J Cancer
Volume : 89
Pages : 42-48