Breast Cancer Translational Research Laboratory J.C. Heuson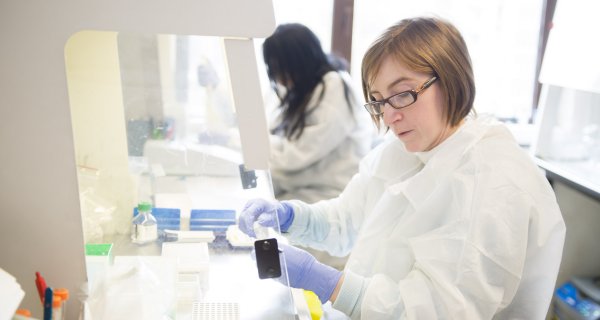 The aim of the Institut Bordet J.-C. Heuson Breast Cancer Translational Research Laboratory (BCTL) is to facilitate the transfer of scientific discoveries about breast cancer that are made in the laboratory into clinical practice. It seeks to improve the molecular characterisation of breast cancer through the use of leading-edge technologies. A particular objective is to improve understanding of the biology of these cancers and of the mechanisms involved in resistance to treatment.
The principal objective of research at the BCTL is to improve our understanding of the biology of breast cancer and of the propagation and progression of the disease at a molecular level by using leading-edge technologies such as high throughput DNA sequencing. The Laboratory has developed a number of prognostic and predictive gene signatures, notably the Genomic Grade Index (GGI). This Index makes it possible to classify patients into different prognostic groups and to identify which of them will derive significant benefit from chemotherapy or hormone therapy.
Professor Sotiriou's team is also studying the molecular heterogeneity of breast cancer, from the viewpoint of both inter- and intra-patient variability, and is seeking to identify the mechanisms associated with sensitivity and resistance to treatment.
Alongside this, the team is developing a number of research projects involving liquid biopsies, in particular the characterisation of tumour DNA circulating in the bloodstream. This tool is promising for the monitoring of cancerous disease, the early detection of recurrence and the evaluation of response/resistance to a treatment. The results of this research should offer new prospects for the therapeutic treatment of patients affected by breast cancer.
The BCTL is involved in training students from the ULB Faculty of Medicine and Biomedical Sciences. In particular, each year we welcome students in the process of completing their final dissertation. We also supervise students completing their doctoral thesis in Biomedical Sciences (4 to 6 students over a 4-year period).
Scientific publications
Immunity drives <i>TET1</i> regulation in cancer through NF-?B.
Authors : Collignon E, Canale A, Al Wardi C, Bizet M, Calonne E, Dedeurwaerder S, Garaud S, Naveaux C, Barham W, Wilson A, Bouchat S, Hubert P, Van Lint C, Yull F, Sotiriou C, Willard-Gallo K, Noel A, Fuks F
Year : 2018
Journal : Sci Adv
Volume : 4
Pages : eaap7309

Scoring of tumor-infiltrating lymphocytes: from visual estimation to machine learning.
Authors : Klauschen F, Müller KR, Binder A, Bockmayr M, Hägele M, Seegerer P, Wienert S, Pruneri G, de Maria S, Badve S, Michiels S, Nielsen TO, Adams S, Savas P, Symmans F, Willis S, Gruosso T, Park M, Haibe-Kains B, Gallas B, Thompson AM, Cree I, Sotiriou C, Solinas C, Preusser M, Hewitt SM, Rimm D, Viale G, Loi S, Loibl S, Salgado R, Denkert C
Year : 2018
Journal : Semin Cancer Biol

Breast cancer diagnosed during pregnancy is associated with enrichment of non-silent mutations, mismatch repair deficiency signature and mucin mutations.
Authors : Nguyen B, Venet D, Azim HA Jr, Brown D, Desmedt C, Lambertini M, Majjaj S, Pruneri G, Peccatori F, Piccart M, Rothé F, Sotiriou C
Year : 2018
Journal : NPJ Breast Cancer
Volume : 4
Pages : 23

The BCY3/BCC 2017 survey on physicians' knowledge, attitudes and practice towards fertility and pregnancy-related issues in young breast cancer patients.
Authors : Lambertini M, Di Maio M, Pagani O, Curigliano G, Poggio F, Del Mastro L, Paluch-Shimon S, Loibl S, Partridge AH, Demeestere I, Azim HA Jr, Peccatori FA
Year : 2018
Journal : Breast
Volume : 42
Pages : 41-49

Feasibility of developing reliable gene expression modules from FFPE derived RNA profiled on Affymetrix arrays.
Authors : Jose V, Fumagalli D, Rothé F, Majjaj S, Loi S, Michiels S, Sotiriou C
Year : 2018
Journal : 0
Volume : 13
Pages : e0203346