Breast Cancer Translational Research Laboratory J.C. Heuson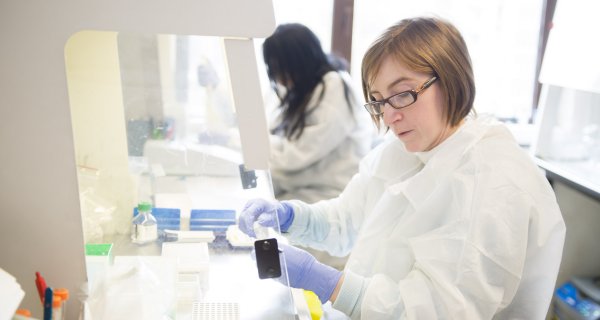 The aim of the Institut Bordet J.-C. Heuson Breast Cancer Translational Research Laboratory (BCTL) is to facilitate the transfer of scientific discoveries about breast cancer that are made in the laboratory into clinical practice. It seeks to improve the molecular characterisation of breast cancer through the use of leading-edge technologies. A particular objective is to improve understanding of the biology of these cancers and of the mechanisms involved in resistance to treatment.
The principal objective of research at the BCTL is to improve our understanding of the biology of breast cancer and of the propagation and progression of the disease at a molecular level by using leading-edge technologies such as high throughput DNA sequencing. The Laboratory has developed a number of prognostic and predictive gene signatures, notably the Genomic Grade Index (GGI). This Index makes it possible to classify patients into different prognostic groups and to identify which of them will derive significant benefit from chemotherapy or hormone therapy.
Professor Sotiriou's team is also studying the molecular heterogeneity of breast cancer, from the viewpoint of both inter- and intra-patient variability, and is seeking to identify the mechanisms associated with sensitivity and resistance to treatment.
Alongside this, the team is developing a number of research projects involving liquid biopsies, in particular the characterisation of tumour DNA circulating in the bloodstream. This tool is promising for the monitoring of cancerous disease, the early detection of recurrence and the evaluation of response/resistance to a treatment. The results of this research should offer new prospects for the therapeutic treatment of patients affected by breast cancer.
The BCTL is involved in training students from the ULB Faculty of Medicine and Biomedical Sciences. In particular, each year we welcome students in the process of completing their final dissertation. We also supervise students completing their doctoral thesis in Biomedical Sciences (4 to 6 students over a 4-year period).
Scientific publications
Tumor-Infiltrating Lymphocytes and Prognosis: A Pooled Individual Patient Analysis of Early-Stage Triple-Negative Breast Cancers.
Authors : Loi S, Drubay D, Adams S, Pruneri G, Francis PA, Lacroix-Triki M, Joensuu H, Dieci MV, Badve S, Demaria S, Gray R, Munzone E, Lemonnier J, Sotiriou C, Piccart-Gebhart M, Kellokumpu-Lehtinen PL, Vingiani A, Gray K, Andre F, Denkert C, Salgado R, Michiels S
Year : 2019
Journal : J Clin Oncol
Pages : JCO1801010

PIK3CA mutations are associated with reduced pathological complete response rates in primary HER2-positive breast cancer: pooled analysis of 967 patients from five prospective trials investigating lapatinib and trastuzumab.
Authors : Loibl S, Majewski I, Guarneri V, Nekljudova V, Holmes E, Bria E, Denkert C, Schem C, Sotiriou C, Loi S, Untch M, Conte P, Bernards R, Piccart M, Von Minckwitz G, Baselga J
Year : 2019
Journal : Ann Oncol

Pathway level alterations rather than mutations in single genes predict response to HER2-targeted therapies in the neo-ALTTO trial.
Authors : Shi W, Jiang T, Nuciforo P, Hatzis C, Holmes E, Harbeck N, Sotiriou C, Peña L, Loi S, Rosa DD, Chia S, Wardley A, Ueno T, Rossari J, Eidtmann H, Armour A, Piccart-Gebhart M, Rimm DL, Baselga J, Pusztai L
Year : 2019
Journal : Ann Oncol

Author Correction: Landscape of somatic mutations in 560 breast cancer whole-genome sequences.
Authors : Nik-Zainal S, Davies H, Staaf J, Ramakrishna M, Glodzik D, Zou X, Martincorena I, Alexandrov LB, Martin S, Wedge DC, Van Loo P, Ju YS, Smid M, Brinkman AB, Morganella S, Aure MR, Lingjærde OC, Langerød A, Ringnér M, Ahn SM, Boyault S, Brock JE, Broeks A, Butler A, Desmedt C, Dirix L, Dronov S, Fatima A, Foekens JA, Gerstung M, Hooijer GKJ, Jang SJ, Jones DR, Kim HY, King TA, Krishnamurthy S, Lee HJ, Lee JY, Li Y, McLaren S, Menzies A, Mustonen V, OMeara S, Pauporté I, Pivot X, Purdie CA, Raine K, Ramakrishnan K, Rodríguez-González FG, Romieu G, Sieuwerts AM, Simpson PT, Shepherd R, Stebbings L, Stefansson OA, Teague J, Tommasi S, Treilleux I, Van den Eynden GG, Vermeulen P, Vincent-Salomon A, Yates L, Caldas C, vant Veer L, Tutt A, Knappskog S, Tan BKT, Jonkers J, Borg Å, Ueno NT, Sotiriou C, Viari A, Futreal PA, Campbell PJ, Span PN, Van Laere S, Lakhani SR, Eyfjord JE, Thompson AM, Birney E, Stunnenberg HG, Van de Vijver MJ, Martens JWM, Børresen-Dale AL, Richardson AL, Kong G, Thomas G, Stratton MR
Year : 2019
Journal : Nature

The circular RNome of primary breast cancer.
Authors : Smid M, Wilting S, Uhr K, Rodriguez-Gonzalez G, de Weerd V, Prager-Van der Smissen W, van der Vlugt-Daane M, van Galen A, Nik-Zainal S, Butler A, Martin S, Davies H, Staaf J, van de Vijver M, Richardson A, Macgrogan G, Salgado R, Van den Eynden G, Purdie C, Thompson A, Caldas C, Span P, Sweep F, Simpson P, Lakhani S, Van Laere S, Desmedt C, Paradiso A, Eyfjord J, Broeks A, Vincent-Solomon A, Futreal A, Knappskog S, King T, Viari A, Børresen-Dale AL, Stunnenberg H, Stratton M, Foekens J, Sieuwerts A, Martens J
Year : 2019
Journal : Genome Res