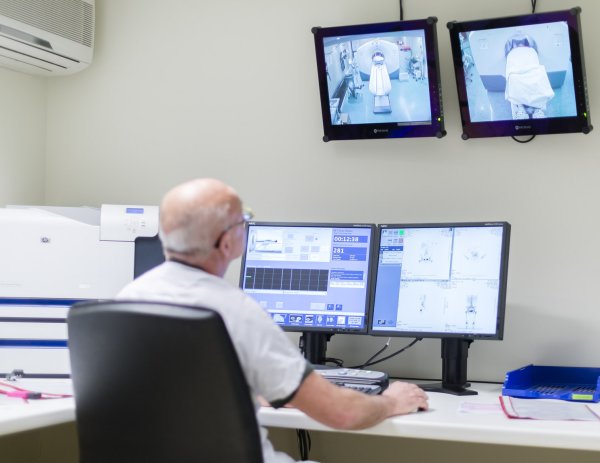 The nuclear medicine department of the Institut Jules Bordet offers patients diagnostic tests of the functional or molecular type, as well as treatments with targeted molecular radiotherapy.  
The diagnostic tests differ from those carried out in the Radiology Department in that they involve the intravenous administration of substances labelled with radioactive isotopes, which specifically make it possible to identify the functionality or characteristic of an organ or of the cancer.
Therapeutic applications in nuclear medicine (often called "molecular radiotherapy") use the same type of substance (tracer) specifically targeting the cancer tissue, but this substance is labelled with radioactive isotopes which emit therapeutic particles of the beta or alpha type enabling the destruction of the diseased cells.
The Department of Nuclear Medicine has 4 units:
1) Conventional nuclear medicine
This unit offers all the usual non-PET examinations, using either gamma-emitting radionuclides, or substances labelled using gamma-emitting radioelements. In 2016, the Department of Nuclear Medicine carried out 3500 "conventional" nuclear medicine examinations.  
The Department is equipped with a classical (2-headed) gamma camera and a latest generation hybrid SPECT-CT camera. The latter combines a gamma ray detector (2 heads) with a helicoidal CT scanner. This technology makes it possible to obtain a complete evaluation of the functional and anatomical/morphological characteristics of the disease.
2) The PET-CT unit
Since June 2001, the Institut Jules Bordet has had a positron emission tomography (PET) centre. This centre was opened as part of a collaboration with other public hospitals in Brussels, within the IRIS hospital network. It is one of the 20 PET centres recognised by royal decree in Belgium. In 2016, this unit carried out 6000 PET-CT scans using different types of tracer. 
3) Molecular radiotherapy
The Jules Bordet Institute is a reference centre for radionuclide therapy, historically with the treatment of thyroid cancer by iodine-131 and MIBG for neuroblastoma. Recent years have seen the development of several new treatments in the field of nuclear medicine, in particular for patients with neuroendocrine tumours (PRRT: protein receptor radio therapy) and prostate cancer metastasis and recurrence (PRLT: PSMA targeted radioligand therapy).
The treatments available at the Institut Jules Bordet:
Lu177-octreotate (PRRT, for metastatic neuroendocrine tumours)

Lu177-PSMA ligand (PRLT, for a multimetastatic recurrence of prostate cancer) 
Y90-microspheres (radioembolization of primary liver tumours or liver metastases) 

Xofigo (Radium-223) for bone metastases of prostate origin

Iode-131 (thyroid cancer)

MIBG (neuroblastoma)

Y90-Zevalin (CD20-positive lymphoma)
4) Lymphology
The Department of Nuclear Medicine is the national reference unit where "Lymphology" is concerned.  Indeed the nuclear medicine techniques make it easy to carry out a functional study of various pathologies of the lymphatic system. These techniques prove to be particularly useful in targeting certain oedemas (post-therapeutic "large arm" or "large leg" syndrome or primary or secondary  lymphoedemas) and help in choosing the best treatment.
The Department of Nuclear Medicine is a training unit recognised for the training of doctors specialising in nuclear medicine (complete training programme).
Each year, it welcomes 1 or 2 young doctors training in nuclear medicine, as well as students on a masters in medicine course (1 or 2 per month). It organises regular seminars recognised to be part of in-service training of specialist doctors.
The Department also welcomes trainees training to be medical technologists.
The Department of Nuclear Medicine of the Institut Jules Bordet is the only service of the ULB network which provides systemic radionuclide cancer treatments (thyroid and neuroendocrine cancers). It has therefore become a national and international reference centre for specific training in "theranostics" and molecular radiotherapy.
Our team
Head of Department
Prof Patrick Flamen

The team
Dr Carlos Artigas, Assistant Head of Clinic
Dr Géraldine Gebhart, Assistant Head of Clinic
Dr Ioannis Karfis, Assistant Head of Clinic
Dr Elçin Özalp, Assistant Head of Clinic
Dr Erwin Woff, Assistant Head of Clinic
Dr Ivan Duran Derijckere, Resident
Radiophysicists (Department of Radiophysics)
Clémentine Marin, Radiophysicist 
Marie Christiane Yimo-Wadje (Physics control)
Gwennaëlle Marin, Radiophysicist
Bruno Vanderlinden
Radiopharmacy
Prof Ghanem Ghanem
Zéna Wimana
Maxime Renguet
Adriana De Matos
Sara Coelho
Coordination of radionuclide treatments and thyroid checkups
Marie-Noëlle Gheeraert
Pauwel Thijs (thyroid cancer)
CoreLab molecular imaging (ORILAB)
Thomas Guiot, Ing
Research Unit
Zéna Wimana, Radiopharmacy/pre-clinical imaging
Wendy Delbart, PhD Student/Research Assistant
Loubna Taraji Schiltz, Clinical Study Coordinator
Hugo Levillain, PhD Student in Medical Physics
Gabriela Critchi, Research Assistant
Secretaries
Jessie Toussaint
Anandi Henriet
Alyssa Hammouda (PET-Scan)
20/01/2020
Scientific publications
Rationale and design of REGINA, a phase II trial of neoadjuvant regorafenib, nivolumab, and short-course radiotherapy in stage II and III rectal cancer.
Authors : Bregni G, Vandeputte C, Pretta A, Senti C, Trevisi E, Acedo Reina E, Kehagias P, Liberale G, Moretti L, Bali MA, Demetter P, Flamen P, Carrasco J, DHondt L, Geboes K, Gokburun Y, Peeters M, Van den Eynde M, Van Laethem JL, Vergauwe P, Chapot CA, Buyse M, Deleporte A, Hendlisz A, Sclafani F
Year : 2021
Journal : Acta oncologica
Pages : 1-5

International recommendations for personalised selective internal radiation therapy of primary and metastatic liver diseases with yttrium-90 resin microspheres.
Authors : Levillain H, Bagni O, Deroose CM, Dieudonné A, Gnesin S, Grosser OS, Kappadath SC, Kennedy A, Kokabi N, Liu DM, Madoff DC, Mahvash A, Martinez de la Cuesta A, Ng DCE, Paprottka PM, Pettinato C, Rodríguez-Fraile M, Salem R, Sangro B, Strigari L, Sze DY, de Wit van der Veen BJ, Flamen P
Year : 2021
Journal : Eur J Nucl Med Mol Imaging

Correction to: Combined quality and dose-volume histograms for assessing the predictive value of <sup>99m</sup>Tc-MAA SPECT/CT simulation for personalizing radioembolization treatment in liver metastatic colorectal cancer.
Authors : Levillain H, Burghelea M, Derijckere ID, Guiot T, Gulyban A, Vanderlinden B, Vouche M, Flamen P, Reynaert N
Year : 2021
Journal : EJNMMI Phys
Volume : 8
Pages : 9

131I-metaiodobenzylguanidine and peptide receptor radionuclide therapy in pheochromocytoma and paraganglioma.
Authors : Jungels C, Karfis I
Year : 2021
Journal : Curr Opin Oncol
Volume : 33
Pages : 33-39

Absence of residual fluorescence in the surgical bed at near-infrared fluorescence imaging predicts negative margins at final pathology in patients treated with breast-conserving surgery for breast cancer.
Authors : Pop FC, Veys I, Vankerckhove S, Barbieux R, Chintinne M, Moreau M, Donckier V, Larsimont D, Bourgeois P, Liberale G
Year : 2021
Journal : Eur J Surg Oncol
Volume : 47
Pages : 269-275