Radiology – Medical Imaging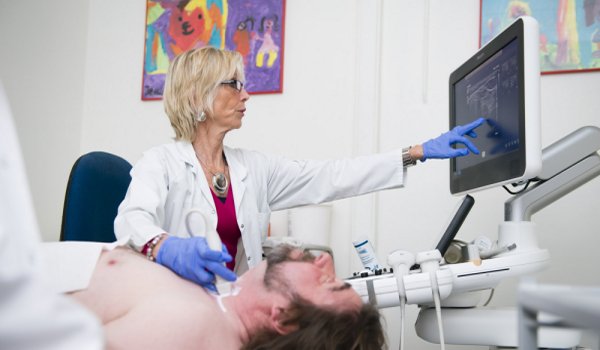 The radiology department of the Institut Jules Bordet  brings together the various medical imaging techniques, except for nuclear medicine.
The techniques concerned are:
conventional radiology (radiography including mammography and bone densitometry),

tomodensitometry (X-ray scanning), 

ultrasound (ultrasound imaging),

magnetic resonance imaging (MRI).
Although some interventional radiology techniques can have a therapeutic aim, the activities of the radiology department are mainly diagnostic. Our main tasks are:
the diagnostic identification of tumours, their extent and their complications,

the preparation of their treatment (in particular targeting the area to be irradiated),

monitoring the lesions under treatment.
These main tasks are performed in the context of a multidisciplinary collaboration. The radiology department therefore works closely with the nuclear medicine, medical, surgical and radiotherapy departments of the Institut Jules Bordet.
The senology platform brings together the most advanced techniques for the screening, the diagnosis and the characterisation of breast cancer:
numeric mammography with tomosynthesis,

two-and three-dimensional ultrasound,

stereotaxic biopsy,

breast MRI,

biopsies under MRI.
The tomodensitometry unit is equipped with 2 X-ray scanners.
One of the very latest dual energy scanners with a double tube. Its technology enables it to deliver very small doses of X-rays.

The second scanner is equipped for interventional radiology (biopsies or TDM-guided treatments).
The magnetic resonance unit is equipped with 2 MRI machines at the forefront of technology, one at 1.5 and the other at 3.0 Tesla (high field and wide-bore magnet). All the current techniques are available in it, from high-resolution ultra-localised imaging to whole-body imaging.
The ultrasound unit is in particular equipped with a co-recording system and fusion of TDM, MRI and/or nuclear medicine images in 3 dimensions to help with ultrasound-guided puncture of lesions.
The radiology department is a training unit recognised for the training of doctors specialising in radiodiagnostics. It permanently has 3 radiologists in training, as well as students on a masters in medicine course. It organises regular seminars recognised to be part of in-service training of specialist doctors.
The departmental doctors take part in teaching radiology and radioprotection at the Faculty of Medicine and at the School of Public Health of the ULB, as well as in teaching in paramedical sections of the HELB-Ilya Prigogine.
The department also welcomes trainees training to be medical technologists.
Team
Interventional radiology clinic
 H

ead of nurses / technologists

M. Lionel Gantois - Head of nurses
M. Christophe Tragnee -  Nurse Adjunct Head 
M. Vassilios Koletsis - Technologist Adjunct Head
 

Secretariat (head of department)

Mrs Hélène Van Celst : +32 (02 541 72 40)
 
30/08/2021
Scientific publications
Rationale and design of REGINA, a phase II trial of neoadjuvant regorafenib, nivolumab, and short-course radiotherapy in stage II and III rectal cancer.
Authors : Bregni G, Vandeputte C, Pretta A, Senti C, Trevisi E, Acedo Reina E, Kehagias P, Liberale G, Moretti L, Bali MA, Demetter P, Flamen P, Carrasco J, DHondt L, Geboes K, Gokburun Y, Peeters M, Van den Eynde M, Van Laethem JL, Vergauwe P, Chapot CA, Buyse M, Deleporte A, Hendlisz A, Sclafani F
Year : 2021
Journal : Acta Oncol
Volume : 60
Pages : 549-553

What Should Guide the Performance of Venous Resection During Pancreaticoduodenectomy for Pancreatic Ductal Adenocarcinoma with Venous Contact?
Authors : Navez J, Bouchart C, Lorenzo D, Bali MA, Closset J, Van Laethem JL
Year : 2021
Journal : Ann Surg Oncol

Correction to: Combined quality and dose-volume histograms for assessing the predictive value of <sup>99m</sup>Tc-MAA SPECT/CT simulation for personalizing radioembolization treatment in liver metastatic colorectal cancer.
Authors : Levillain H, Burghelea M, Derijckere ID, Guiot T, Gulyban A, Vanderlinden B, Vouche M, Flamen P, Reynaert N
Year : 2021
Journal : EJNMMI Phys
Volume : 8
Pages : 9

EUS-guided placement of fiducial markers for stereotactic body radiation therapy in pancreatic cancer: feasibility, security and a new quality score.
Authors : Figueiredo M, Bouchart C, Moretti L, Mans L, Engelholm JL, Bali MA, Van Laethem JL, Eisendrath P
Year : 2021
Journal : Endosc Int Open
Volume : 9
Pages : E253-E257

Factors associated with SARS-CoV-2 infection and outcome in patients with solid tumors or hematological malignancies: a single-center study.
Authors : Goudsmit A, Cubilier E, Meert AP, Aftimos P, Stathopoulos K, Spilleboudt C, Loizidou A
Year : 2021
Journal : Support Care Cancer