Radiotherapy research unit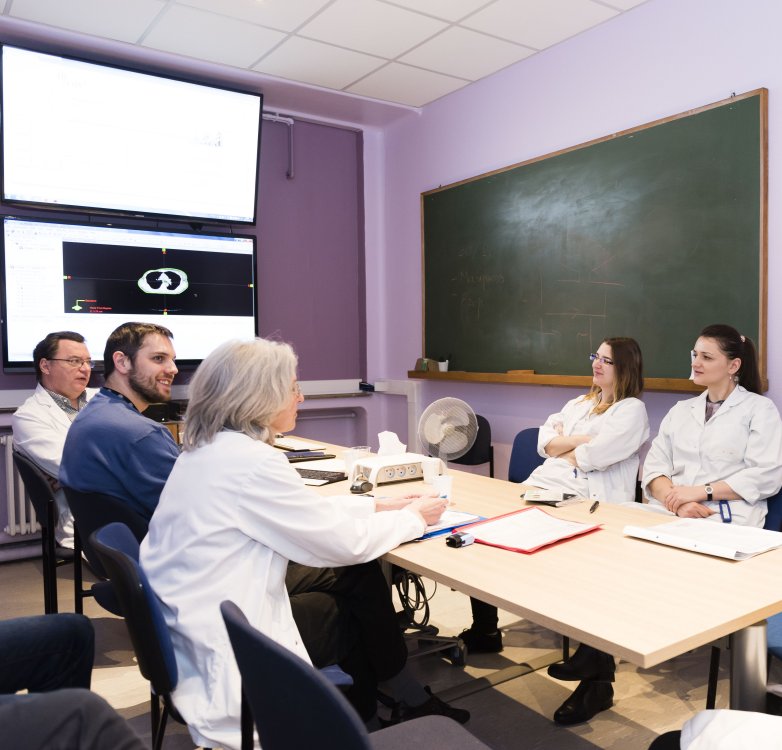 The radiotherapy research at the Bordet Institute focuses on the treatment of diverse tumor types, on several levels: preclinical, translational, clinical and technological.
The radiotherapy department disposes of a dedicated preclinical research lab that leads research in cellular and animal models, to study radiobiology, the immune effects of

radiotherapy, and the synergy with other treatments.

The physics team develops new techniques to process imaging data and to optimize the technical aspects of radiotherapy treatments, and implements new treatment techniques in clinical routine.

Clinical research is focused on implementing

new radiotherapy

techniques, indications, treatment schedules and combinations with other treatment modalities such as immune therapy. A major part focuses also on the reduction of side effects, by altering the radiotherapy treatment or by optimizing the multidisciplinary care.
The technological research focuses on the treatment delivery, aiming to target the tumor as precisely as possible, to optimize the dose at the surrounding organs, and to improve patient comfort.
The radiotherapy research team develops independent study projects, often in collaboration with other labs and/or other university hospitals. The department also participates in several multicenter trials, coordinated by other universities or international organizations such as EORTC and ESTRO.
A major part of the unit's research is centered on 4 main research lines which are presented here, each linked to departmental projects and/or multicenter trials.
Head & Neck cancers




The head & neck group puts a lot of emphasis on the optimal prevention and treatment of side effects from radio(chemo)therapy.

The Swall PEG trial

Preclinical research on low-level laser therapy

Prospective pilot study evaluating dental side effects

Assessment of radio(chemo)therapy-related dysphagia


 

Oligometastases and the synergy of radiotherapy and immunotherapy




The stereotactic treatment of oligometastases is a developing field in radiation oncology, with very positive results emerging from the first randomized trials. In parallel, radiotherapy has the potential to boost immune therapy for local or metastatic disease.

Neo-CheckRay, a randomized phase II trial.

Stereotactic body radiotherapy, immune response and abscopal effect in clear cell renal carcinoma: a murine model.

Immunological potential of p53 activation combined to stereotactic irradiation in PDXs humanized pre-clinical mouse models (AVATAR)

Contribution to the study of stereotaxic radiotherapy and its immunomodulatory effect in the treatment of pancreatic cancers

The Oligopro-Breast trial: a prospective trial in Oligoprogressive metastatic breast cancer

Participation in the PEACE V: STORM trial


 

Non-small cell lung cancer

ProCaLung - The Project on Cancer of the Lung. This multicenter national project, coordinated by our team, investigates several quality aspects of lung cancer radiotherapy, as contouring and planning, in an effort to optimize and homogenize lung cancer radiation oncology in Belgium.
​​​​​​​

Prostate cancer




Prostate cancer is one of the major radiotherapy indications and research is largely driven by multicentric trials in several of which we participate.

Evaluation of the

XVI dual registration tool in prostate cancer patients: Is it more accurate than manual matching?

Participation in the following trials: PEGASUS, PEACE V: STORM, SAVE, DART, PART.
Our team
Head of Radiotherapy Research
- Dirk Van Gestel, MD, PhD
Head of Medical Physics Research
- Nick Reynaert, PhD
Head of Radiotherapy Pre-clinical Research
- Mohammad Krayem, PhD
Research team
- Christelle Bouchart, MD, PhD-candidate
- Florian Charlier, MD, PhD-candidate
- Alex De Caluwé, MD, PhD-candidate
- Tatiana Dragan, MD, PhD-candidate
- Younes Jourani, MPE, PhD-candidate
- Yasemin Karaca, MD, PhD-candidate
- Philippe Lambin, MD PhD, consultant
- Philippe Martinive, MD PhD
- Sofiana Mootassim-Billah, PhD-candidate
- Luigi Moretti, MD PhD
- François-Xavier Otte, MD
- Zelda Paquier, MPE, PhD-candidate
- Aurelian Quinet, MPE, PhD-candidate
- Filipa Rodrigues Sousa, RTT
- Paul Van Houtte, MD PhD
- Robbe Van den Begin, MD PhD
- Gitte Van de Ven, RTT
- Scientists in Medical Physics
Research coordination
- Clémence Al Wardi, PhD
- Hélène Gilson, PhD
Last update : 17/03/2021
Scientific publications
Role of radiotherapy in the management of brain metastases of NSCLC - Decision criteria in clinical routine.
Authors : Glatzer M, Faivre-Finn C, De Ruysscher D, Widder J, Van Houtte P, Troost EGC, Slotman BJ, Ramella S, Pöttgen C, Peeters STH, Nestle U, McDonald F, Le Pechoux C, Dziadziuszko R, Belderbos J, Ricardi U, Manapov F, Lievens Y, Geets X, Dieckmann K, Guckenberger M, Andratschke N, Süveg K, Putora PM
Year : 2021
Journal : Radiother Oncol
Volume : 154
Pages : 269-273

Development of staffing, workload and infrastructure in member departments of the European Organisation for Research and Treatment of Cancer (EORTC) radiation oncology group.
Authors : Willmann J, Poortmans P, Monti AF, Grant W, Clementel E, Corning C, Reynaert N, Hurkmans CW, Andratschke N
Year : 2021
Journal : Radiother Oncol
Volume : 155
Pages : 226-231

Successful treatment of synchronous chemoresistant pulmonary metastasis from pleomorphic rhabdomyosarcoma with stereotaxic body radiation therapy: A case report and a review of the literature.
Authors : Benkhaled S, Mané M, Jungels C, Shumelinsky F, de Saint-Aubain de Somerhausen N, Van Gestel D
Year : 2021
Journal : Cancer Treat Res Commun
Volume : 26
Pages : 100282

The Multicenter, Randomized, Phase 2 PEACE V-STORM Trial: Defining the Best Salvage Treatment for Oligorecurrent Nodal Prostate Cancer Metastases.
Authors : Zilli T, Dirix P, Heikkilä R, Liefhooghe N, Siva S, Gomez-Iturriaga A, Everaerts W, Otte FX, Shelan M, Mercier C, Achard V, Thon K, Stellamans K, Moon D, Conde-Moreno A, Papachristofilou A, Scorsetti M, Gückenberger M, Ameye F, Zapatero A, Van De Voorde L, López Campos F, Couñago F, Jaccard M, Spiessens A, Semac I, Vanhoutte F, Goetghebeur E, Reynders D, Ost P
Year : 2021
Journal : Eur Urol Focus
Volume : 7
Pages : 241-244

Rationale and design of REGINA, a phase II trial of neoadjuvant regorafenib, nivolumab, and short-course radiotherapy in stage II and III rectal cancer.
Authors : Bregni G, Vandeputte C, Pretta A, Senti C, Trevisi E, Acedo Reina E, Kehagias P, Liberale G, Moretti L, Bali MA, Demetter P, Flamen P, Carrasco J, DHondt L, Geboes K, Gokburun Y, Peeters M, Van den Eynde M, Van Laethem JL, Vergauwe P, Chapot CA, Buyse M, Deleporte A, Hendlisz A, Sclafani F
Year : 2021
Journal : Acta Oncol
Volume : 60
Pages : 549-553