The Bordet Institute's Anatomical Pathology Department acquires a latest generation slide scanner
14/10/2022
The Bordet Institute's Anatomical Pathology Department acquires a latest generation slide scanner
Thanks to funding of more than 105,000 euros from the Jules Bordet Association, the Institute's Anatomical Pathology Department recently acquired a latest generation histological slide scanner. This acquisition will enrich the department's digital pathology platform as it commits further to the pursuit of its triple mission of care, research and innovation for the benefit of patients.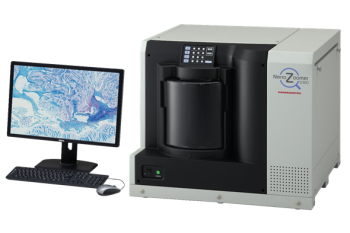 Many possible applications
The applications of this technological marvel are many and diverse: carrying out on-slide measurements (tumour tissue, fibrosis, angiogenesis, response to treatment), annotations, compiling image libraries for use in training young pathologists and students, etc. These can be shared online via the Internet and the images analysed by several experts simultaneously. 
Equipped with state-of-the-art technology, the scanner opens up many possibilities for image processing and quantitative and qualitative analysis to refine and improve a diagnosis. The scanner complements such new generation techniques as spatial transcriptomics that make it possible to measure gene expression and to locate this expression in a specific cell. 
The arrival of this scanner means that many future or current digital pathology and artificial intelligence research projects will now be carried out in the department in cooperation with the research teams.  "A tool like this promises some excellent results with the sole aim of achieving progress in research and combating cancers," says Doctor of Science Ligia Craciun. 
The Jules Bordet Institute and the NanoZoomer
This scanner, the NanoZoomer S360®, is made by Hamamatsu. It is the latest addition to the range of NanoZoomer slide scanners
At a time of increased data processing of biological data the slide scanner has become an essential tool in analysing biological tissue and diagnosis. 
With the NanoZoomer it is possible to digitize various slide types, including H&E stains (tumour morphology), immune histochemistry (biomarkers) and cytology (fine needle punctures).    "It is quite revolutionary to realise that together we can visualise a microscope slide, without a microscope and remotely, and share, discuss and compare it with images collected in an image library. All of this on a simple computer screen," adds Doctor of Sciences Craciun.  
The scanner captures images on the basis of three axes (on x, y and on z) for translation into digitized reproductions of the optical content of a histological glass slide. The scans are then compiled to obtain a virtual image of very high definition that is displayed on a computer screen. Reading is by means of viewing software that reproduces the functions of a microscope.   
Its colour camera provides rapid image capture, high resolution and a wide field of view. Speed of digitization is combined with excellent image quality. The continuous loading of 360 slides and 30-second digitization make the NanoZoomer S360 the fastest slide scanner on the market, with a speed of 82 slides per hour. It is also possible to obtain images in Z across the complete slide digitization zone. Image acquisition can be set by the user to Z-stack (number of layers below and above the focus plane, distance between layers). 
The digitized slides can be easily viewed and analysed using the analysis software.