Tumour bank
How to easily participate in cancer research?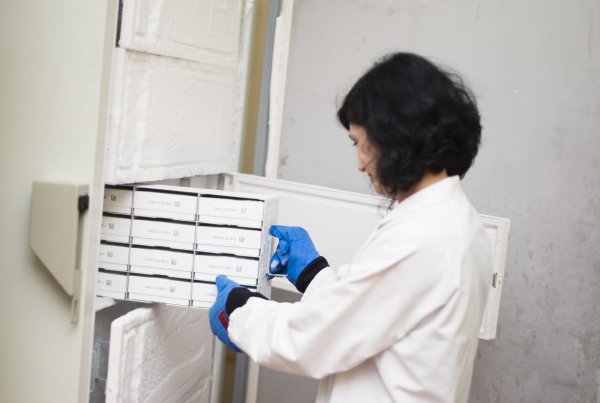 The Institut Bordet Tumour Bank or Tumour Biobank is a collection of samples of human body material (tumour tissue residue, blood samples) and of associated data preserved in optimum conditions for their future use in research. It constitutes a crucial link between diagnosis and fundamental, translational and clinical research. Its activity is subject to strict legislation.
The development of personalised medicine and of immunotherapy in oncology requires the exploration of new biomarkers identifiable in tumour tissue, but also in blood. The role of the Tumour Bank is to collect and supply to scientific research laboratories very high quality, diversified, biological samples in sufficient quantity, accompanied by complete clinical data to enable them to carry out their research. The objective is to understand how tumour 'machinery' operates and the strategy that allows it to escape the vigilance and immune defences of its host.
The Tumour Bank forms part of the Anatomical Pathology Department, enabling full and accurate analysis of tumours by pathologists prior to their preservation. It also forms an integral part of other Belgian biobanks – the Cancer Register Virtual Catalogue, BWB (Wallonia-Brussels BioBank) and of 2 European biobanks: the BBMRI and ESBB. Contact via these networks between different Belgian and international research teams facilitates the establishment of links and skill sharing.
The Institut Bordet Tumour Bank has been ISO90001 certified since 2012 – a guarantee of quality. The robust system put in place for the quality control of our samples enables us to support numerous research projects every year. This is evidenced in the quality of the scientific publications that result from these.
Created: 2010

More than 16,000 frozen tissue samples available

Samples provided by more than 10,000 patients

More than 65 projects using the samples collected
Digital Pathology
Digital pathology is becoming increasingly important in current practice, particularly in research. The Friends of the Institut Bordet have funded part of our Digital Pathology platform. The process of digitising microscopy slides makes it possible to use software to process images. As a result, precise analysis of different cell populations – solid tumour inflammatory infiltrates, for example – can be carried out. These studies will be transposed to a clinical setting, notably to assess whether or not a particular immunotherapy treatment might be beneficial to patients. In addition, hot-spots (concentrations of cell markers) are identified and analysed.
 
Laser Microdissection


Laser microdissection or Laser Capture/Cutting Microdissection (LCM) is a technology that allows the isolation, under morphological control, of cells of interest from tissue sections using a laser beam. This project, supported by the Friends of the Institut Bordet, will make it possible to study tumour heterogeneity at single-cell-type level.
Publications
Tumor Banks: A Quality Control Scheme Proposal
Craciun L, Spinette SA, Rassy M, Salgado R, de Wind A, Demetter P, Verset L, Gomez-Galdon M, Chintinne M, Sirtaine N, de St Aubain N, Laios I, Roy F, Larsimont D.
Front Med (Lausanne). 2019
Tumor infiltrating B-cells signal functional humoral immune responses in breast cancer
Garaud S, Buisseret L, Solinas C, Gu-Trantien C, de Wind A, Van den Eynden G, Naveaux C, Lodewyckx JN, Boisson A, Duvillier H, Craciun L, Ameye L, Veys I, Paesmans M, Larsimont D, Piccart-Gebhart M, Willard-Gallo K.
JCI Insight. 2019
BRCA gene mutations do not shape the extent and organization of tumor infiltrating lymphocytes in triple negative breast cancer
Solinas C, Marcoux D, Garaud S, Vitória JR, Van den Eynden G, de Wind A, De Silva P, Boisson A, Craciun L, Larsimont D, Piccart-Gebhart M, Detours V, t'Kint de Roodenbeke D, Willard-Gallo K
Cancer Lett. 2019
Reprogramming of Energy Metabolism: Increased Expression and Roles of Pyruvate Carboxylase in Papillary Thyroid Cancer
Strickaert A, Corbet C, Spinette SA, Craciun L, Dom G, Andry G, Larsimont D, Wattiez R, Dumont JE, Feron O, Maenhaut C.
Thyroid, 2019.
FOXP1 negatively regulates tumor infiltrating lymphocyte migration in human breast cancer
De Silva P, Garaud S, Solinas C, de Wind A, Van den Eyden G, Jose V, Gu-Trantien C, Migliori E, Boisson A, Naveaux C, Duvillier H, Craciun L, Larsimont D, Piccart-Gebhart M, Willard-Gallo K
EBioMedicine. 2019
Distinctive Desmoplastic 3D Morphology Associated With BRAFV600E in Papillary Thyroid Cancers
Tarabichi M, Antoniou A, Le Pennec S, Gacquer D, de Saint Aubain N, Craciun L, Cielen T, Laios I, Larsimont D, Andry G, Dumont JE, Maenhaut C, Detours V
J Clin Endocrinol Metab. 2018
Inflammatory Stroma of Lymphoepithelioma-like Carcinoma of the Cervix: Immunohistochemical Study of 3 Cases and Review of the Literature
Philippe A, Rassy M, Craciun L, Naveaux C, Willard-Gallo K, Larsimont D, Veys I.
Int J Gynecol Pathol. 2018
Scientific publications
Neo-CheckRay: radiation therapy and adenosine pathway blockade to increase benefit of immuno-chemotherapy in early stage luminal B breast cancer, a randomized phase II trial.
Authors : De Caluwé A, Buisseret L, Poortmans P, Van Gestel D, Salgado R, Sotiriou C, Larsimont D, Paesmans M, Craciun L, Drisis S, Vandekerckhove C, Reyal F, Veys I, Eiger D, Piccart-Gebhart M, Romano E, Ignatiadis M
Year : 2021
Journal : BMC Cancer
Volume : 21
Pages : 899

Fluorescent Multiplex Immunohistochemistry Coupled With Other State-Of-The-Art Techniques to Systematically Characterize the Tumor Immune Microenvironment.
Authors : Boisson A, Noël G, Saiselet M, Rodrigues-Vitória J, Thomas N, Fontsa ML, Sofronii D, Naveaux C, Duvillier H, Craciun L, Larsimont D, Awada A, Detours V, Willard-Gallo K, Garaud S
Year : 2021
Journal : Front Mol Biosci
Volume : 8
Pages : 673042

Transcriptional output, cell-type densities, and normalization in spatial transcriptomics.
Authors : Saiselet M, Rodrigues-Vitória J, Tourneur A, Craciun L, Spinette A, Larsimont D, Andry G, Lundeberg J, Maenhaut C, Detours V
Year : 2021
Journal : J Mol Cell Biol
Volume : 12
Pages : 906-908

Feasibility and clinical impact of routine molecular testing of gastrointestinal cancers at a tertiary centre with a multi-gene, tumor-agnostic, next generation sequencing panel.
Authors : Bregni G, Sticca T, Camera S, Akin Telli T, Craciun L, Trevisi E, Pretta A, Kehagias P, Leduc S, Senti C, Deleporte A, Vandeputte C, Saad ED, Kerger J, Gil T, Piccart-Gebhart M, Awada A, Demetter P, Larsimont D, Hendlisz A, Aftimos P, Sclafani F
Year : 2020
Journal : Acta oncol (Stockholm)
Volume : 59
Pages : 1438-1446

Infiltrative tumour growth pattern correlates with poor outcome in oesophageal cancer.
Authors : Anciaux M, Demetter P, de Wind R, Gomez Galdon M, Vande Velde S, Lens G, Craciun L, Deleruelle A, Larsimont D, Lenaerts T, Sclafani F, Deleporte A, Donckier V, Hendlisz A, Vandeputte C
Year : 2020
Journal : BMJ Open Gastroenterol
Volume : 7